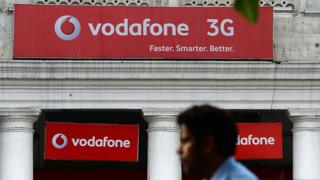 UK telecoms hulk Vodafone has joined a Indian business with Idea Cellular, India's third-largest network, to emanate a country's largest operator.
The total association will have roughly 400 million customers, accounting for 35% of a marketplace share, a firms pronounced in a statement.
The proclamation ends months of conjecture over an imminent deal.
Analysts contend a partnership was to deflect off foe from a new user – Reliance Jio.
Owned by a country's richest man, Mukesh Ambani, Jio has forced Vodafone India and Idea Cellular, together with stream marketplace personality Bharti Airtel, to cut prices.
Shares in Idea rose roughly 4% in Mumbai following a proclamation of a deal.
India's heading mobile networks are inextricable in what analysts have described as "a infamous cost war", started by a attainment of Jio.
More than 10 telecom operators are battling it out to try and attract India's one billion mobile phone users.
That has forced firms to keep tariffs low – significantly impacting their profitability.