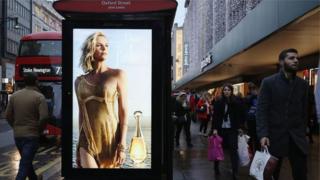 Retail sales grew at a slower pace in January as consumers reined in spending after Christmas, research from the British Retail Consortium shows.
It found sales had inched up 0.1% year-on-year, steeply down from an increase of 1.7% in December and the weakest performance since last August.
The figures were largely driven by slower non-food sales, although spending on groceries held up.
The BRC said consumers were feeling cautious going into the new year.
"Looking across the last three months, we've seen the slowest growth of the festive period since 2009," BRC chief executive Helen Dickinson added.
"With the signs pointing to upward pressures on shop prices given rising import costs, all eyes will be on the impact of inflation on consumer spending."
Rising inflation
According to the research, consumers had cut back on non-essentials, although sales of furniture climbed towards the end of the year.
Spending on food rose 2% in the quarter, while online sales jumped 8.6% as more shoppers shunned the high street.
Official figures released last month showed retail sales fell at their fastest rate in more than four years in December.
And last week the Bank of England reported that consumer borrowing had slowed for the first time in five months.
The bank also expects inflation to rise to 2.75% by mid-2018, pushing up prices in shops.
It blamed the weakness of the pound, which has slipped by about 16% against the dollar and 10% against the euro since the Brexit vote in June.