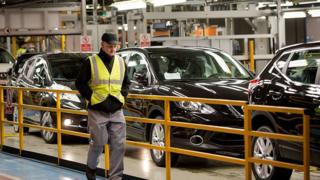 The UK economy grew 0.6% from October to December, maintaining the rate of growth of the previous quarter.
The figures, from the Office for National Statistics (ONS), show that a feared slowdown in the UK economy as a result of Brexit has not shown up in official data.
For 2016 as whole, the economy grew by 2%, down from 2.2% in 2015.
"Strong consumer spending supported the expansion of the dominant services sector," the ONS said.
"Although manufacturing bounced back from a weaker third quarter – both it and construction remained broadly unchanged over the year as a whole."
The figures were slightly better than the 0.5% most economists had expected.
The service sector rose by 0.8% in the quarter, helped by growth in the distribution, hotels and restaurant industry. Retail sales and travel agencies also supported growth in this sector.
Services account for about three-quarters of the UK economy.
'Solid' growth
Thursday's figures show the construction industry grew by 0.1% and agriculture by 0.4%, while industrial production was flat.
This is the first estimate of the strength of the economy in the fourth quarter of the year. At least two more will follow.
The ONS points out that the data on which the first estimate is based is less than half the total amount it has access to by the time of the third estimate.
Lee Hopley, chief economist of the manufacturers' lobby group, EEF, said there was no guarantee growth would continue throughout 2017: "Growth ended the year on a solid note.
"Challenges abound for forecasters in 2017, but we'd caution against complacency. Consumers won't be ramping up spending thanks to rising inflation and sluggish wage growth, and businesses' appetite to sign off big investments will depend on how they view the progress of Brexit negotiations.
"There's every chance that this rate of expansion is the high point for the next couple of years."