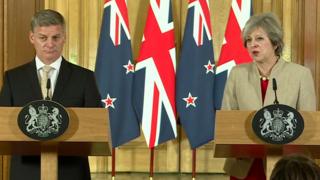 New Zealand hopes to negotiate a "high quality" free trade agreement with the UK once it leaves the EU, its prime minister Bill English has said.
Following a meeting with Theresa May, he said he hoped this would happen "as soon as possible".
Mrs May said both countries already enjoy a strong and growing trading relationship worth over £3bn last year.
International Trade Secretary Liam Fox will be visiting New Zealand in the coming months, she said.