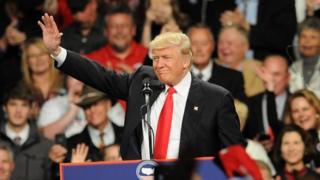 Donald Trump's surprise win in the US presidential election cost Paddy Power Betfair nearly £5m, the bookmaker has said.
The company added that it had also lost money on football bets in December.
Paddy Power Betfair said it expected the total impact of "customer friendly" results in the final three months of last year to be about £40m.
However, it still expects underlying annual earnings to be around the middle of its predicted range of £390m-£405m.
It said that lower-than-expected marketing and staff expenses had helped offset the dent in revenues in the final quarter of 2016.
Along with other bookmakers Paddy Power Betfair was hit by a run of punter-friendly football results at the end of the year, including Chelsea's string of victories.
However, total revenue in the fourth quarter still rose 10% to £388m. For the year as a whole, it grew by 18% to £1.55bn.

.news-vj-spw-wrapper{position:absolute;top:0;left:0;right:0;bottom:0}
]]>