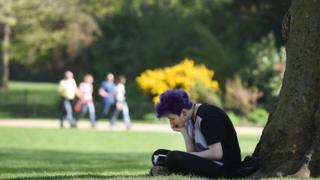 Work, kids, checking your phone. But reading a book? It usually doesn't occur as many as it used to.
A new survey, though, suggests some-more than two-thirds of Brits wish they had some-more time to read.
The consult of 2,000 UK adults by The Reading Agency found that 67% would like to review more, though scarcely half (48%) acknowledge they are too busy.
And some-more than 35% pronounced they onslaught to find book they unequivocally like.
---
List of books we're many expected to explain we've read, when we've indeed usually seen a film, in sequence of popularity:
James Bond books, Ian Fleming
Lord of a Rings, JRR Tolkien
The Chronicles of Narnia, CS Lewis
The Da Vinci Code, Dan Brown
The Hunger Games, Suzanne Collins
Trainspotting, Irvine Welsh
The Wizard of Oz, L Frank Baum
Bridget Jones's Diary, Helen Fielding
The Girl with a Dragon Tattoo, Stieg Larsson
The Godfather, Mario Puzo
One Flew Over a Cuckoo's Nest, Ken Kesey
Gone Girl, Gillian Flynn
The Kite Runner, Khaled Hosseini
---
Perhaps since we don't review as many as we'd like, since dual out of 5 of us (41%) are happy to widen a law when it comes to what or how many we've read.
Millennials are a era many expected to distortion about their reading habits, with 64% of 18- to 24-year-olds fibbing about a series of books, or a kinds of books, they have read.
One entertain of 18-24 year olds (25%) acknowledge to carrying lied about reading JRR Tolkien's Lord of a Rings, when they have in fact usually watched a Peter Jackson films.
The consult was consecrated forward of World Book Night on 23 April, that calls on book lovers opposite a nation to give a good book to someone who doesn't review often.
---
Follow us on Facebook, on Twitter @BBCNewsEnts, or on Instagram during bbcnewsents. If we have a story idea email entertainment.news@bbc.co.uk.