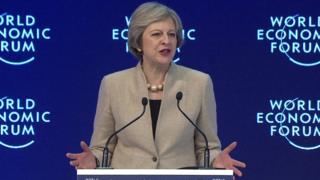 Theresa May has told leaders at the World Economic Forum in Davos that the UK will be a "world leader" on trade.
But the prime minister also warned that inequality blamed on globalisation was aiding the "politics of division".
Her speech to business leaders and politicians in Switzerland comes after EU leaders said a post-Brexit trade deal with the UK would be "difficult".
The European Commissioner for Economic Affairs, Pierre Moscovici, said Brexit would be bad for the UK and the EU.
In her speech, Mrs May said the world was enjoying an "unprecedented level of wealth", but many people felt this was "not working for them".
Landale: Don't mention the War
Europe reacts to May's Brexit speech
City banks warn of Brexit job moves
The UK's Brexit plans: What we now know
Global elites needed to tackle the backlash against globalisation, liberalism, and free trade because leaders who "embrace the politics of division and despair" were working to exploit the situation.
The prime minister promised the UK, after Brexit, would take on a "leadership role as the strongest and most forceful advocate for free markets and free trade anywhere in the world".
She argued for reforms so the global economy created wealth for all, rather than a "privileged few", so that "centre-ground mainstream politics" could "work for everyone".
Economic plans
In the UK, Mrs May said, she would announce her "industrial strategy" soon, adding that this would "address the longstanding and structural weaknesses our economy".
She said: "This is not about propping up failing industries or picking winners but creating the conditions where winners can emerge and grow."
The prime minister promised a "bold, confident, open Britain" after Brexit.
Earlier, Chancellor Philip Hammond warned the EU that the UK would have to find ways to stay competitive if there was no "comprehensive trading relationship" post-Brexit.
He said: "Our first obligation of government is to make sure that our people are able to maintain their standard of living."
European reaction
Ahead of the speech European Commissioner for Economic and Financial Affairs, France's Mr Moscovici, told the BBC that Brexit was not a positive move.
"You cannot have all the advantages of being the member of the club when you're out of the club," he said.
"I think that our British friends, who invented clubs, can understand that."
Analysis – By Dominic O'Connell, Today business presenter
Theresa May may receive a warmer reception from Davos delegates than many expect.
Patrick Thomson, a fund manager at JP Morgan Asset Management who specialises in sovereign wealth funds – those giant international investors that put the nest eggs of whole countries to work – says that they are positive about the UK's prospects.
For them, Brexit is a short-term issue.
"You have to remember these are intergenerational investors – that's the time horizon they have, and they are upbeat about the UK, which still has many attractions for them, including ease of investment and rule of law," he said.
That's the kind of response that will be music to Mrs May's ears – sovereign wealth funds have been the biggest investors in UK infrastructure in recent years, and her plans to breathe new life into Britain's roads, railways, schools and broadband networks rely on their support.
Johnson's WWII comment 'an embarrassment'
On Wednesday, Foreign Secretary Boris Johnson warned the EU not to penalise the UK for Brexit.
He said: "If [French president] Monsieur [Francois] Hollande wants to administer punishment beatings to anybody who chooses to escape, rather in the manner of some World War Two movie, then I don't think that is the way forward.
"I think, actually, it's not in the interests of our friends and our partners."
Downing Street later said Mr Johnson "was not in any way suggesting anyone was a Nazi".
But Labour said the "wild and inappropriate comment" would not "improve the climate for negotiations".
On BBC Newsnight, former World Trade Organization director general Pascal Lamy said of Mr Johnson's comments: "It's a clear embarrassment for all these high-flying diplomats in the Foreign Office and they deserve all our compassion."
What we know about May's Brexit plans
The prime minister has already delivered one speech on the UK's future this week, revealing on Tuesday her plans for the country's relationship with the EU and the wider world after Brexit.
The key aims were:
Leaving the European single market
Leaving the European Union's customs union, but striking a new deal, although the PM said she had no "preconceived position"
Restrictions on migration between the UK and the EU
Protecting the rights of UK citizens in the EU and EU citizens in the UK
Parliament to get a vote on the final Brexit deal reached between the UK and EU