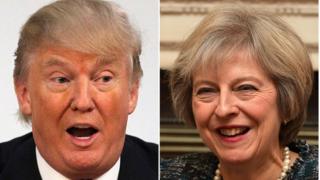 Theresa May said the UK would always condemn torture as she arrived in the US for talks with President Trump.
The PM told journalists her view would not change "whether I am talking to you or talking to the president".
She will hold talks in the White House on Friday with Donald Trump, who has said he believes the banned technique of waterboarding works.
She also said of her future relationship with the president: "Sometimes opposites attract."
Mrs May has been urged to reject President Trump's comments about torture when she becomes the first world leader to meet the US president.
Speaking on her flight to the US, she told reporters: "We condemn torture and my view on that won't change whether I'm talking to you or talking to the president of the United States of America."
Before her talks with the president Mrs May travels to Philadelphia to address Republican leaders at an event attended by the US president.
The issue of torture rose up the agenda after the president's comments to ABC News on Wednesday.
He said: "When they're shooting, when they're chopping off the heads of our people and other people, when they're chopping off the heads of people because they happen to be a Christian in the Middle East, when Isis (IS) is doing things that nobody has ever heard of since Medieval times, would I feel strongly about waterboarding?
"I have spoken with people at the highest level of intelligence and I asked them the question 'Does it work? Does torture work?' and the answer was 'Yes, absolutely'."
Mrs May said at Prime Minister's Questions this week that the government's opposition to torture remained unchanged, a message repeated by Foreign Secretary Boris Johnson and Brexit Secretary David Davis on Thursday when MPs asked about Mr Trump's comments.
'Historic relationship'
And a No 10 spokesman said: "We have been clear in the areas we are likely to cover, the point is we have a strong relationship with America, a close relationship with America and that allows us to have frank exchanges and where we disagree we will make it clear."
Opposition leader, Labour's Jeremy Corbyn said: "Theresa May must stand up for our country's values when she meets Donald Trump and oppose his support for torture, which is inhumane, illegal and delivers false intelligence."
During her visit Mrs May will vow to renew the UK's special relationship with the US "for this new age", telling Republicans that after Brexit, a "sovereign, global" Britain wants to enhance ties with its "old friends".
Post-Brexit trade opportunities, security and intelligence co-operation and the future of Nato are likely to feature significantly in her talks with Mr Trump.
Mrs May has said her goal is to build on the historic relationship between the two nations, underpinned by their shared values and common interests.
But she has said she "won't be afraid" to speak candidly to Mr Trump on matters where they disagree, having criticised remarks the businessman has made in the past about women and Muslims.
---
'An opportunity and a risk'
By Laura Kuenssberg, BBC political editor
Theresa May is walking into a meeting with the most unorthodox president in decades, a man who today she will flatter, calling for the US and UK to "lead together again" as he starts to "renew his nation".
A man who has found huge popularity among millions of voters precisely because he doesn't care for politician norms.
But also a man with whom Theresa May disagrees overtly on a very long list of issues, whose views millions of other voters are deeply worried about, who has just suggested he might support torture as president.
The prime minister believes that she can draw on the relationship and traditions between our two countries to talk frankly to President Trump, to disagree as well as discuss.
Her aides say "she's not scared of anyone" and that the potential advantages of getting closer to the United States are well worth the risks of accusations of cosying up to a president who is not afraid of offending anyone – who has even made it a trademark.
---
Becoming the first foreign leader to be invited to visit the White House since Mr Trump's inauguration has been seen as something of a coup for Mrs May.
The government is keen to capitalise on the US president's strong personal and business links to the UK and his support for Brexit – which he has described as a "smart move".
In her speech to the annual Republican retreat on Thursday, Mrs May will stress the unique contribution that the US and UK have made to the modern world and the institutions that underpin it, such as Nato and the United Nations.
She will say that just as the two nations have worked hand-in-hand to "defeat evil" and to "open up the world" in the past, they now have an opportunity to "lead, together, again".
"The UK is by instinct and history a great, global nation that recognises its responsibilities to the world," she will say.
"And, as we end our membership of the European Union, we have the opportunity to reassert our belief in a confident, sovereign and global Britain, ready to build relationships with old friends and new allies alike.
"So as we rediscover our confidence together – as you renew your nation just as we renew ours – we have the opportunity, indeed the responsibility, to renew the special relationship for this new age."
---
Present for the president
Theresa May will present Donald Trump, whose mother was born in the Outer Hebrides, with an engraved quaich, a Scottish artefact symbolising friendship.
The shallow bowls were traditionally used in Scotland from the 17th Century as drinking cups.
First lady Melania gets a hamper of produce from Chequers – containing apple juice, damson jam, marmalade, Bakewell tarts and "cranberry and white chocolate shorties".
---
Although the UK cannot begin to negotiate trade deals with the US or other countries until it leaves the EU, Mr Trump has said he wants a "quick" deal after that happens and the two leaders are expected to discuss future co-operation.
Ted Malloch, who has been tipped as a future US ambassador to the European Union, has told the BBC the outline of a free trade deal could be done in as little as 90 days.
"There won't be a deal signed in the White House on Friday, but there could be an agreement for a framework going forward where people are empowered to have that kind of conversation behind closed doors," said Prof Malloch, who works at Henley Business School.
"That's very positive, I think, and it also sends a signal that the United States is behind Great Britain in its hour of need."
But other economists have warned that although the UK and US are already significant trade partners, negotiating a bilateral agreement from scratch could take years and face many potential obstacles.
Mr Trump's protectionist rhetoric in his inauguration speech and his apparent hostility to existing global trade deals – he has already withdrawn from the Trans-Pacific Partnership and urged major reform of the North American Free Trade Agreement (Nafta) – have raised question marks about his commitment to an equal partnership.
Mr Trump is expected to make a brief appearance at the three-day Republican retreat in Philadelphia, an annual strategy event held behind closed doors.
Although the party also controls the House of Representatives and the Senate, Mr Trump fell out with many leading party figures during the presidential campaign.