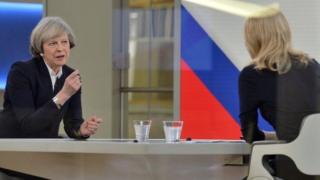 Prime Minister Theresa May has said the government's thinking on Brexit "isn't muddled at all".
Her comments on Sky News come after the UK's former ambassador to the EU, Sir Ivan Rogers, criticised ministers' approach to negotiations.
Brexit talks with the EU are expected to begin as early as April.
Mrs May said the government's priority was to get the "best possible deal in terms of our trading relationship with the European Union".
She added that it was not possible to keep "bits" of membership.
'Complexity of issues'
Sir Ivan stepped down from his ambassador role on Tuesday, criticising "muddled thinking" within government about Brexit. He has been replaced by Sir Tim Barrow.
Mrs May told Sky News's Ridge on Sunday: "Our thinking on this isn't muddled at all."
It is "important to take some time" to look at the "complexity of the issues," she added.
The prime minister has promised to invoke Article 50 of the Lisbon Treaty – getting formal Brexit negotiations with the EU under way – by the end of March.