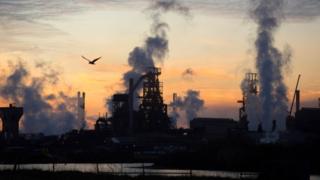 The result of a ballot of thousands of Tata Steel workers is expected later.
Members have been asked whether they accept moving from a final salary pension to a less generous scheme, with the ballot closing at midday.
Tata's offer includes a £1bn investment commitment at Port Talbot and no compulsory job losses.
The three unions at the Indian company's UK plants are recommending their members, including 6,300 Tata workers in Wales, accept the deal.
They called it the "only credible and viable way" to secure the future.
Under the proposed changes, the British Steel Pension Scheme would close to future accrual, replaced with a defined contribution scheme with maximum contributions of 10% from Tata and 6% from workers.
It also emerged a one-off pension contribution of up to £10,000 could be made to Tata workers in their 50s who plan to retire early.
If the ballot is backed by workers, it would bring an end to almost a year of uncertainty for thousands of workers who faced losing their jobs when Tata's UK business was put up for sale in March 2016.