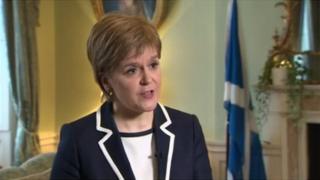 Nicola Sturgeon has urged the prime minister to take proposals on Brexit from the devolved administrations seriously, ahead of key talks.
The first minister was speaking as she and Mrs May prepared to attend a Joint Ministerial Committee (JMC) meeting.
Ms Sturgeon warned time was running out for the prime minister to "heed the voice of Scotland".
Mrs May said she hoped the meeting would be constructive but warned they "will not agree on everything".
She also said the Supreme Court ruling on triggering Article 50 had set out "beyond doubt" that relations with Brussels would be determined by the UK government.
The JMC meeting in Cardiff between the UK government and devolved administrations will include talks on the Scottish government's proposals for maintaining access to the single market.
Proposals to remain in the single market have also been put forward by Welsh First Minister Carwyn Jones and Plaid Cymru leader Leanne Wood.
Ms Sturgeon has previously warned that Mrs May's plans to take the UK out of the single market "undoubtedly" made a second referendum on Scottish independence more likely.
'Crucial juncture'
Speaking ahead of the meeting, Ms Sturgeon said it was "one of the most important since the result of the EU referendum seven months ago".
She said: "It comes at a crucial juncture, with the clock ticking down to the triggering of Article 50 and with, so far, no sign whatsoever that the UK government is taking Scotland's position remotely seriously.
"The JMC meeting in Cardiff is another chance for the prime minister to heed the voice of Scotland and those of the other devolved governments – and she must take the opportunity to do so.
"We have compromised by publishing detailed proposals to keep Scotland in the European single market even if the rest of the UK leaves.
"Those compromise proposals are formally on the agenda for this meeting, and so the prime minister has a chance to show she is serious about her pledge to properly consider those proposals."
'Right deal'
A spokesman for the UK government said: "We have been determined from the start that the devolved administrations should be fully engaged as we form the UK's negotiating position for leaving the EU.
"The JMC process gives Scottish government ministers direct access to the UK government as we plan our EU exit.
"All proposals from the devolved administrations are being studied carefully.
"We are focused on getting the right deal for Scotland and the UK as a whole. That means the best possible access to the EU market for British businesses."
He added: "It also means ensuring a strong future for our United Kingdom, which the Scottish government's own export figures show is worth four times more to Scotland's economy than the EU single market."