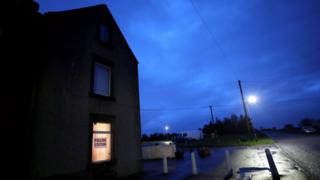 Voting has ended in the Parliamentary by-elections in Stoke-on-Trent Central and Copeland.
Labour is defending both seats after the resignations of ex-frontbenchers Tristram Hunt and Jamie Reed.
Jeremy Corbyn's party, which has not lost either constituency since their creation, is facing challenges from the Conservatives and UKIP.
The votes will now be counted with the results expected between 03:00 GMT and 04:00 GMT on Friday morning.
Labour is defending a 2,564 majority in the west Cumbrian seat of Copeland, where a Conservative victory would mark the first by-election gain by a governing party since 1982.
Brexit battle
Mr Reed, who had been an MP since 2005, resigned to take a job in the nuclear industry. With thousands of people employed in the sector, nuclear power has been a key campaign theme along with warnings about local NHS cuts.
Labour has Gill Troughton as its candidate, a councillor and former doctor and ambulance driver, who is up against Conservative Trudy Harrison, who lives in the village of Bootle and was a parish councillor for a number of years.
In Stoke, Labour's majority has been decreasing in recent years, from 19,924 in 1997 to 5,179 in 2015.
UKIP is hoping to capitalise on voters' leanings towards Brexit – the area voted strongly to leave the EU in June – and is fielding its leader, Paul Nuttall, against Labour's Gareth Snell.
Both candidates have had tough moments during their campaigns, with Mr Snell apologising over old social media posts about women appearing on television and Mr Nuttall facing a backlash over false claims he lost close friends in the Hillsborough tragedy.
Two UKIP officials from Liverpool and Merseyside branches resigned following the row, saying Mr Nuttall had been "unprofessional" and donor Arron Banks showed "crass insensitivity" in subsequent comments about the disaster.
The Conservatives, who were narrowly forced into third in 2015 by UKIP, are putting forward 25-year-old Jack Brereton. As with Copeland, a Conservative win would be first by-election gain by any government for 35 years.