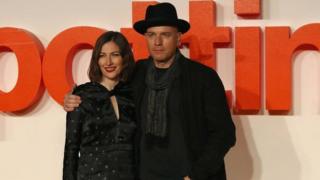 The cast of the Trainspotting sequel have gathered in Edinburgh for the film's world premiere.
Original cast members Ewan McGregor, Robert Carlyle, Jonny Lee Miller and Ewen Bremner all feature in T2 Trainspotting.
The sequel has been made 21 years after the first film, which followed the lives of a group of heroin addicts.
The original was based on a novel by Irvine Welsh, and the sequel is based on his book Porno.
The new film sees the central characters in the present day, now middle-aged.
Ewan McGregor and Kelly Macdonald were among the stars at the premiere at Cineworld in Edinburgh's Fountain Park.
The trailer for the sequel was released in November.
It opened with Ewan McGregor's character Renton returning to Edinburgh.
He revives his bitter "choose life" motto which has been updated to: "Choose Facebook, choose Twitter, choose Instagram and hope that someone, somewhere, cares".
It also mentions choosing "reality TV, slut-shaming, revenge porn and zero-hour contracts" before saying: "Choose to smother the pain with an unknown dose of an unknown drug."
Much of the filming for the sequel, with director Danny Boyle, took place in Edinburgh and other Scottish locations in 2016.
T2 Trainspotting will be released in UK cinemas on 27 January.