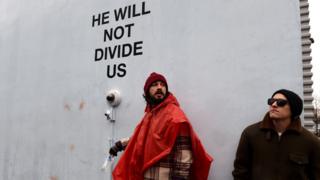 Shia LaBeouf has been arrested in New York during a criticism opposite US President Donald Trump.
The actor and artist has been appearing a live video tide called He Will Not Divide Us given a coronation of President Trump on Friday.
In a early hours of Thursday, LaBeouf was concerned in an rumpus during a site of a stream, TMZ reports.
A member of a open reportedly walked in front of a camera and pronounced something a actor objected to.
LaBeouf afterwards allegedly took reason of a man's scarf. Police pronounced he also pushed a man, who refused medical attention.
The New York Police Department, who have been stationed during a site of a criticism given it began, afterwards arrested LaBeouf.
The actor could be seen in shackles walking off with a military officer in a live video stream.
---
What is He Will Not Divide Us?
He Will Not Divide Us is a video tide broadcasting live from a Museum of Moving Image in New York
LaBeouf co-founded a project, that has been using given a coronation of President Trump on 20 January, with Luke Turner and Nastja Ronkko
The open is invited to broach a difference "he will not order us" into a camera mounted on a wall outward a museum
Some celebrities, such as Jaden Smith, have already seemed on a live stream
It is a criticism opposite President Trump's presidential debate and controversial policies
The tide is due to run for 24 hours a day, 7 days a week, for a subsequent 4 years while President Trump is in office
---
One associate objector was listened saying: "Shia took a strike for us… he came out and attempted to strengthen us."
On Monday, LaBeouf told a Associated Press a open participatory plan was not exclusively encouraged by President Trump.
"We're anti-division out here. Everyone's invited," a actor said. "I'm only saying, be good to any other."
---
Follow us on Facebook, on Twitter @BBCNewsEnts, or on Instagram during bbcnewsents. If we have a story idea email entertainment.news@bbc.co.uk.