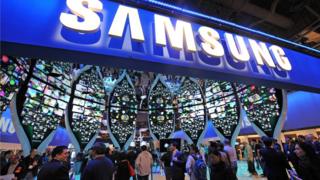 Despite the fiasco with its flagship Galaxy Note 7 phone, Samsung Electronics estimates its profit in the fourth quarter surged by 50%.
The South Korean tech giant is expecting to post 9.2tn won ($7.8bn, £6.2bn) in operating profit for the months from September to December.
The strong results are due to Samsung's semiconductor and display business.
In October, their Note 7 had to be taken off the market after its batteries repeatedly caught fire.
The strong earnings estimate beat analysts' expectations and marks the highest quarterly profit since late 2013.
Demand for memory chip and displays is expected to remain high throughout the next year.
Note 7 profit hit
In its earlier profit forecast for the quarter, Samsung had said it anticipated a $2.1bn profit hit due to the recall.
Samsung first issued a recall for the Galaxy Note 7 in September following complaints about exploding batteries.
After replacement devices deemed safe were also found to overheat and catch fire, the company scrapped the phone entirely.
Samsung said that it will "very soon" share details of its inquiry into the cause of the Note 7 problems.
Samsung will disclose a detailed earnings release for the quarter in late January which will give more insights into the performance of its individual businesses.