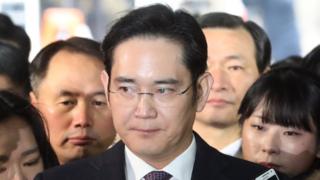 A court in South Korea is deliberating whether to issue an arrest warrant for Samsung chief Lee Jae-yong, who's been accused of bribery, embezzlement and perjury.
Mr Lee could be the first executive to be arrested in connection to a scandal which led to the impeachment of the country's President Park Geun-hye.
South Korea's special prosecutors made a formal request for an arrest warrant earlier this week.
Samsung has denied any wrongdoing.
South Korea's presidential scandal explained
Did a puppy bring down South Korea's president?
A friendship too far in Seoul?
The electronics giant is accused of giving donations to non-profit foundations operated by Choi Soon-sil, a friend of Ms Park, in exchange for government favours.
It has admitted making payments but insists it did not expect any favours in return.
Mr Lee, also known as Jay Y Lee was at Seoul Central District Court earlier in the day to give evidence. He is now being held in custody pending the decision.
– Grandson of Samsung founder Lee Byung-chul, son of current chairman Lee Kun-hee.

– Aged 48, he's spent his entire career in the company and is vice chairman of Samsung Electronics.

– Last year was nominated to join the board of Samsung Electronics – an appointment confirmed on 27 October.

– Widely expected to take overall control of Samsung once his 74-year-old father steps down.

– Critics say his position on the board is due to his birth, not his business experience.
He is currently vice-chairman of Samsung Electronics, but since his father, Lee Kun-hee, suffered a heart attack in 2014, he is considered de facto boss of the entire Samsung Group conglomerate.
Samsung is South Korea's most high-profile company, and its sales are equal to about a fifth of the country's GDP.