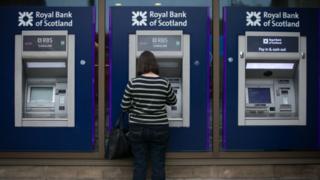 Royal Bank of Scotland has reported a £7bn annual loss as legacy issues continue to dog its performance.
It is the ninth year in a row that the bank, which is 72%-owned by the taxpayer, has reported a loss.
The bank set aside more money to deal with legal action in the US and its abandoned attempt to spin off its Williams Glyn business.
RBS plans to cut costs by £2bn over the next four years, which is likely to mean job cuts and branch closures.
Chief executive Ross McEwan said: "The bottom-line loss we have reported today is, of course, disappointing but, given the scale of the legacy issues we worked through in 2016, it should not come as a surprise.
"These costs are a stark reminder of what happens to a bank when things go wrong and you lose focus on the customer, as this bank did before the financial crisis."
A big chunk of RBS's loss in 2016 – which was more than triple the previous year's loss of £2bn – was down to it setting aside £5.9bn for fines and legal costs.
The US Department of Justice is pursuing the bank over the sale of mortgage-backed securities prior to the 2008 financial crisis.