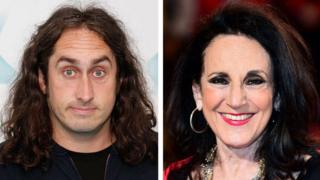 Comedians Ross Noble and Lesley Joseph are set to star in a new theatre prolongation of Young Frankenstein.
The low-pitched is formed on Mel Brooks' Oscar-nominated film that starred Gene Wilder as Dr Frederick Frankenstein, a successor of a demented Victor.
Living in New York, he tries to play down a family name, until he inherits a barbarous palace and discovers Victor's book: "How we Did It".
Noble will play Frankenstein's hunchbacked servant, Igor.
Joseph will seem as housekeeper Frau Blucher, whose really name causes horses to back in fright; while West End star Hadley Fraser will take a categorical purpose of Dr Frederick Frankenstein.
Brooks will furnish a show, that will open for a pre-West End deteriorate in Newcastle on 26 Aug until 9 September.
It will afterwards open during a Garrick Theatre on 28 September.
The low-pitched formerly ran on Broadway between 2007 and 2009.
The cult film on that it's formed was co-written by Brooks and Wilder, and warranted them an Oscar assignment for best blending screenplay.