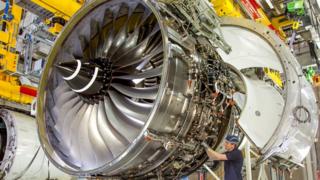 A UK court has approved a £671m agreement between Rolls-Royce and UK and US authorities to settle bribery and corruption cases.
The aerospace firm will pay £497m plus costs to the Serious Fraud Office (SFO), which started investigating claims in 2012 of wrongdoing overseas.
The SFO found conspiracy to corrupt or failure to prevent bribery in China, India, Thailand and other markets.
Rolls-Royce apologised "unreservedly" for the conduct which was uncovered.
The statement of facts published by the SFO revealed 12 counts of conspiracy to corrupt or failure to prevent bribery in seven countries – Indonesia, Thailand, India, Russia, Nigeria, China and Malaysia.
Rolls-Royce said it would also pay $170m (£141m) to the US Justice Department.
A further settlement would see it pay $26m (£21.5m) to Brazilian regulators, it added.
Rolls-Royce's shares finished nearly 4.5% higher on the news of the settlements and the company's announcement that its 2016 profits would beat expectations.
One of the UK's biggest manufacturing exporters, Rolls-Royce makes engines for military and civil planes, as well as for trains, ships, nuclear submarines and power stations.
'Intermediaries'
The agreement between the SFO and Rolls Royce is known as a deferred prosecution agreement (DPA).
It is only the third such agreement that the SFO has struck since they were first introduced into UK law in 2014.
They allow organisations to pay huge penalties, but avoid prosecution, if they freely confess to economic crimes such as fraud or bribery.
The wrongdoing involved Rolls-Royce's "intermediaries", which are local companies that handle sales, distribution, repair and maintenance in countries where the British firm does not have enough people on the ground.
The cases of corruption or bribery, some of which date back nearly 30 years, included:
In Indonesia, senior Rolls-Royce employees agreed to pay $2.2m and a luxury car to an intermediary. There was an "inference" that this money was a reward for the intermediary "showing favour" to Rolls-Royce in respect of a contract for Trent 700 engines, used in airplanes.
In China, Rolls-Royce staff agreed to pay $5m to CES, a state-owned Chinese airline, while negotiating the sale of T700 engines. Under the agreement, $3m would fund business school training for CES employees, and $2m would go towards a Pilots' Healthcare Centre fund.
In Thailand, Rolls-Royce agreed to pay $18.8m to regional intermediaries. Some of the money was for individuals who were "agents of the State of Thailand and employees of Thai Airways". These agents "were expected to act in Rolls-Royce's favour with respect to a purchase by Thai Airways of T800 engines".
In India, the cases relate to a time when the use of intermediaries in connection with Indian government defence contracts was restricted by the Indian authorities. "The terms of some Rolls Royce defence contracts contained undertakings that intermediaries had not been used," the SFO said. But the company continued to use an intermediary and said the payments were for "general consultancy services" rather than commission.
'Zero tolerance'
In its statement, Rolls-Royce chief executive Warren East said: "The behaviour uncovered in the course of the investigations by the Serious Fraud Office and other authorities is completely unacceptable and we apologise unreservedly for it.
"The past practices that have been uncovered do not reflect the manner in which Rolls-Royce does business today.
"We now conduct ourselves in a fundamentally different way. We have zero tolerance of business misconduct of any sort," he added.
The company's lawyer, David Perry, told the court that it had undergone a "fundamental change" since the investigations began, overhauling systems, training, governance and ethics strategies.
SFO director David Green said the £13m probe into Rolls-Royce was the biggest single investigation the office had carried out.
"It allows Rolls-Royce to draw a line under conduct spanning seven countries, three decades and three sectors of its business," he said.
"I think it shows very clearly that the SFO has teeth and that the SFO will not go away and that on a positive side from a company's point of view it shows that co-operation, genuine co-operation with a SFO investigation pays," he told the BBC.