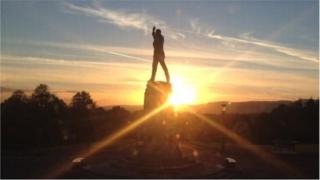 Sinn Féin and the DUP are being urged to enter talks to resolve a dispute set to collapse the institutions at Stormont.
Northern Ireland Secretary James Brokenshire and Irish Foreign Minister Charlie Flanagan said they were ready to assist in any process.
Mr Brokenshire will make a statement at Westminster at midday on Tuesday.
On Monday, Deputy First Minister Martin McGuinness resigned in protest at the handling of a botched energy scheme.
His decision to quit is likely to lead to a snap election.
Reaction to McGuinness resignation
Under Northern Ireland's power-sharing agreement, First Minister Arlene Foster loses her role with the departure of the deputy first minister.
However, the other ministers in the Northern Ireland Executive are expected to be back behind their desks at Stormont later.
They will still be running their departments, but will not be able to make big decisions that need executive approval.
In a week's time, the Northern Ireland Secretary will have the power to set a date for a new election.
However, he has said he believes there is still time for the two parties to find a solution and he has pledged to work with both of them.
The Irish foreign minister has echoed that promise and has urged both sides to act responsibly to protect the institutions of the Good Friday Agreement.
Mr McGuinness cited the Democratic Unionist Party's (DUP) conduct over the Renewable Heat Incentive (RHI) scheme scandal – which could cost the taxpayer £490m – as the main reason for his resignation.
He said he wanted to "call a halt to the DUP's arrogance".
Sinn Féin have not disclosed details of his recent illness, but it has been reported by RTÉ that he has a rare heart condition.
Mr McGuinness denied that the decision had anything to do with health problems.
The outgoing first minister, Mrs Foster, said his resignation was "not principled" and that she was "disappointed".
"His actions have meant that, at precisely the time we need our government to be active, we will have no government and no way to resolve the RHI problems," she said.
Sinn Féin's Michelle O'Neill told BBC's Good Morning Ulster that she had "never seen public outrage" like that generated by the RHI scandal and that DUP "arrogance had compounded the issue".
DUP MP Sammy Wilson said that if Sinn Féin wanted to get to the bottom of RHI then "the last thing you want to do is stop the workings of the assembly".
His fellow DUP MP Jeffrey Donaldson said he was unsure whether power sharing could be restored in Northern Ireland even after an election.
He told RTÉ he was "not convinced" that coalition government could happen in the next few months, adding that an election would not resolve the issues.
Sinn Féin's Máirtín Ó Muilleoir said that power sharing could be restored if "the DUP commit to the principles of the Good Friday Agreement".
"We will never rebuild credibility in these institutions unless we commit again to the promise, to the principles and to the parity of esteem that is at the very foundation and root of the Good Friday Agreement," he said.
He accused the DUP of "trampling" on the agreement.
The RHI scandal has held centre stage in politics in Northern Ireland over the past month, with DUP leader Mrs Foster facing repeated calls to resign – all of which she has rejected.
Mrs Foster set up the Renewable Heat Incentive (RHI) scheme in 2012 when she was enterprise minister.
It was an attempt by the NI Executive to increase consumption of heat from renewable sources.
But businesses received more in subsidies than they paid for fuel, and the scheme became heavily oversubscribed. Its flaws could cost taxpayers £490m.