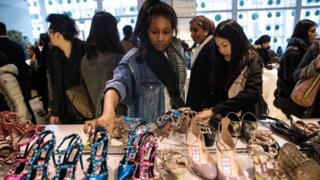 Retail sales in December dropped 1.9% from the previous month, according to official figures.
The largest contribution to the month-on-month fall came from non-food stores, the Office for National Statistics (ONS) said.
Analysts at Lloyds said the Black Friday discount shopping day made it "even harder for retailers to keep shoppers spending during December".
However, compared with a year ago, retail sales were up 4.3% in December.
"There were some notably strong figures from smaller retailers, in particular butchers, who reported a significant boost in sales in the run up to Christmas," said Kate Davies, ONS senior statistician.