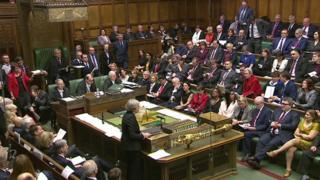 Theresa May has defended the government's record on the NHS during fiery exchanges with Jeremy Corbyn.
After the Labour leader said the government had left the NHS in a "state of emergency", the prime minister said his party would "bankrupt the economy" leaving no money to spend on it.
Mr Corbyn also returned to his previous claim that a "sweetheart" funding deal had been offered to Surrey Council.
Mrs May said this claim had been "destroyed" and told him to apologise.
Also during Prime Minister's Questions, Mrs May praised the husband of murdered Labour MP Jo Cox and said a planned series of "get-together" events he is championing to mark the first anniversary of her death would be a "fitting tribute".
And she said ministers were looking at how "appropriate relief" could be provided to companies that were losing out from the revaluation of business rates.
In response to Green Party MP Caroline Lucas, Mrs May said she recognised there were "particular concerns" as a result of the changes, which come in on 1 April.
The government has faced a mounting campaign, including from some Conservative MPs, against the move.