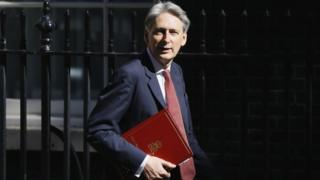 Chancellor of a Exchequer Philip Hammond will broach his initial Autumn Statement on Wednesday 23 November.
Mr Hammond announced a date of a Budget when he began giving justification to a House of Lords committee.
It will set out a government's taxation and spending plans, and a state of a UK economy.
In July, Mr Hammond pronounced he might use a Autumn Statement to "reset" mercantile policy, in light of a UK's opinion to leave a EU on 23 June.
Appearing before a Lords cabinet on Thursday, Mr Hammond said: "The Autumn Statement will set out a government's mercantile and mercantile skeleton formed on a latest forecasts from a Office for Budget Responsibility.
"In a run-up to a Autumn Statement we will be enchanting with Britain's business leaders and worker member by a array of attention turn tables, meetings and visits."