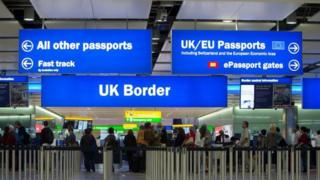 Net migration to the UK has dropped to 273,000 in the year to September, down 49,000 from the previous year.
The Office for National Statistics said it is the first time net migration has dipped below 300,000 in two years, but is not statistically significant.
But it is short of the government's target figure for net migration to be under 100,000.
The figures record the difference between the number of people coming to live in the UK and those leaving.
Immigration was estimated to be 596,000 – comprising 268,000 EU citizens, 257,000 non-EU citizens and 71,000 British citizens.
This included the highest level ever recorded of Romanians and Bulgarians – 74,000.
Some 323,000 people are estimated to have left the UK in the year to September, up by 26,000 on the 12 months to September 2015.
More British citizens left the UK than foreign nationals – 128,000, compared with 103,000 EU citizens leaving the UK and 93,000 non-EU citizens.
---
Analysis
By Dominic Casciani, home affairs correspondent
Net migration – the balance of people arriving and leaving the UK for at least a year – is down. But while the net decrease looks substantial, nobody can say for sure what's triggered the change because these quarterly figures could have been influenced by a string of short-term factors.
For a start, there appears to have been a rise in emigration – and when that goes up, net migration can come down.
Secondly, some of the change could be down to seasonal fluctuations in student numbers.
Thirdly, although there were significant departures by people from the original and richer EU member states, the number coming from poorer Romania and Bulgaria went up.
The upshot is the overall number of people arriving for a job is broadly the same. What does it all amount to? Immigration statistics are an inexact science – and at the moment it's very difficult to know for sure what's going on.
---
The figures are the first to include migration estimates following the EU referendum in June.
Nicola White, the ONS' head of international migration statistics, said it was "too early" to say what effect the referendum has had on long-term migration.