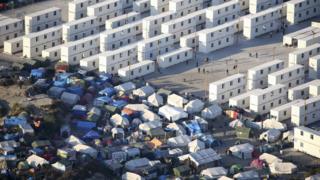 The National Theatre in London is formulation a new play portraying life in a "Jungle" migrant stay in Calais.
The entertainment is operative with playwrights Joe Murphy and Joe Robertson, who built a proxy entertainment in a Jungle in 2015 named Good Chance Theatre.
Billy Elliot and The Audience executive Stephen Daldry has also been concerned in a play's development.
The camp, that might have housed adult to 10,000 migrants as they waited to strech a UK, has recently been demolished.
A National Theatre mouthpiece said: "Joe Murphy and Joe Robertson, artistic directors of Good Chance Theatre, are operative with a NT to rise a play about their knowledge in a Calais Jungle.
"Together with Stephen Daldry, they led a seminar progressing in a year and a plan is now in growth in the new work department."