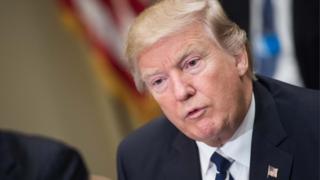 MPs will debate whether US President Trump should be granted a UK state visit, as a petition against the idea nears 1.7 million signatures.
The debate, on 20 February, will also take in a second petition calling for the visit to go ahead, signed by more than 100,000 people.
Mr Trump has imposed a temporary US travel ban on people from seven mainly Muslim countries.
This prompted demonstrations across the UK on Monday.
How the Trump petition breaks down
What is a state visit?
One million sign Stop Trump petition
Prime Minister Theresa May, who met Mr Trump for the first time last week, has invited the president for a state visit – the highest honour accorded to foreign leaders – with no date yet announced for it.
Support for a petition calling for Mr Trump's visit to be downgraded from a state visit, which usually includes a ceremonial welcome and a state banquet, soared after the president announced his travel ban on Friday.
But the rival petition says it should go ahead, as Mr Trump is "leader of a free world" and his views should not be "gagged".
Richard Nixon: 1969 Visited one month after inauguration; no state visit

Barack Obama: 2009 Visited two months after inauguration; state visit after 28 months

George Bush: 1989 Visited four months after inauguration; no state visit

John F Kennedy: 1961 Visited five months after inauguration; no state visit

George W Bush: 2001 Visited six months after inauguration; state visit after 32 months
Earlier on Tuesday, Lord Ricketts, permanent secretary at the Foreign Office from 2006 to 2010, said it was unprecedented for a US president to be invited for a state visit in their first year in the White House.
In a letter to the Times he added: "It would have been far wiser to wait to see what sort of president he would turn out to be before advising the Queen to invite him. Now the Queen is put in a very difficult position."
The immigration order signed by the president temporarily bans nationals from Iraq, Syria, Iran, Libya, Somalia, Sudan and Yemen from entering the US. Critics have called it a "Muslim ban", although the Trump administration denies this.
Labour leader Jeremy Corbyn has called for the state visit to be postponed.
But Downing Street has insisted the visit will go ahead, saying the "special relationship" between the UK and the US allows for "frank conversations at all times".
Once a petition gains the backing of 100,000 names, Parliament's Petitions Committee must consider debating the issue.
The anti-state visit petition is the second most supported since the online system was set up, behind one calling for a second referendum on EU membership, which received the backing of 4,150,260 people.
Veteran Labour MP Paul Flynn, a member of the Petitions Committee, will open the debate on 20 February.
The Commons held a separate emergency debate on Monday on Mr Trump's immigration policy.
A year ago MPs debated a 574,000 signature petition calling for Mr Trump – who was then fighting to become Republican presidential candidate – to be banned from the UK.