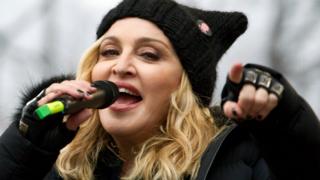 Pop star Madonna has applied to adopt two more children in Malawi.
The 58-year-old appeared in court in the Malawian capital Lilongwe to make the application.
She previously adopted two children from the African country: David Banda in 2006 and Mercy James in 2009.
The star has two other children – Lourdes and Rocco – from previous relationships. Last year saw her involved in a custody dispute over Rocco with ex-husband Guy Ritchie.
She eventually lost the case, with the 16-year-old moving to London to live with his father.
'Embarrassment of riches'
Madonna has yet to comment on her attempts to adopt two further children, but a government spokesman confirmed the singer had appeared in High Court on Wednesday.
She flew into the country on Tuesday, fresh from the Women's March in Washington, where her comments on Donald Trump caused an uproar.
Court spokesman Mlenga Mvula said the star would have to wait a week before hearing the court's decision.
Madonna explained her decision to become an adoptive parent in an article for Harper's Bazaar in 2013.
"I decided that I had an embarrassment of riches and that there were too many children in the world without parents or families to love them," she wrote.
"I applied to an international adoption agency and went through all the bureaucracy, testing, and waiting that everyone else goes through when they adopt."
However, she was vilified in the press with some – including relatives of the adopted children – questioning her suitability as a parent.
Madonna called the furore "a real low point in my life".
"I was accused of kidnapping, child trafficking, using my celebrity muscle to jump ahead in the line, bribing government officials, witchcraft, you name it."
"This was an eye-opening experience," she continued. "I could get my head around people giving me a hard time for… publishing my Sex book, even kissing Britney Spears at an awards show, but trying to save a child's life was not something I thought I would be punished for."
Hospital
The star's relationship with Malawi dates back to 2006, when she established the Raising Malawi charity, with the goal of improving children's lives.
She initially planned to build a $15m (£12m) girls' academy, but later changed strategy, and used the money to fund a number of schools.
The charity also provides scholarships to female students, and is currently building the country's first paediatric intensive care unit at the Queen Elizabeth Central Hospital, in Blantyre.
Madonna visited the project last summer, and took David and Mercy to visit the orphanages where they lived before being adopted.
Follow us on Facebook, on Twitter @BBCNewsEnts, or on Instagram at bbcnewsents. If you have a story suggestion email [email protected].