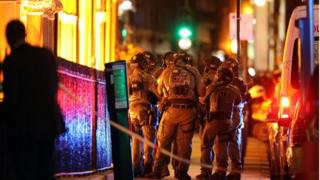 The UK's main political parties – with the exception of UKIP – have suspended their national election campaigns after a terrorist attack in London.
The Conservatives, Labour, SNP, Lib Dems, Greens and Plaid Cymru announced a pause in election activities.
But UKIP leader Paul Nuttall said that was "what the extremists would want".
Brexit Secretary David Davis has played down suggestions that the 8 June election could be delayed after the third UK attack in three months.
A white van hit pedestrians on London Bridge at about 22:00 BST on Saturday, then three men got out and stabbed people in nearby Borough Market. Seven people have been killed and three attackers were shot dead by police.
The prime minister returned to Whitehall to chair a meeting of senior ministers and security chiefs in the government's emergency Cobra committee.
Theresa May said: "Our thoughts are with those who are caught up in these dreadful events."
'Difficult to postpone'
Brexit Secretary David Davis told the BBC it would be difficult to postpone the general election as it would require a change in the law and Parliament is currently dissolved.
He said: "There's a balance of things here. On the one hand, clearly we want to respect the people who have been injured and killed, we want to pay proper respect and therefore we don't want to carry on across it.
"But on the other hand, the people who are doing this, are doing this because they despise the freedoms we have, and those freedoms can be to go out on a Saturday night or the freedom to cast a vote.
"And it maybe, we don't know, at least I don't know, whether or not they are deliberately trying to disrupt the general election or whether this is a coincidence of timing."
He stressed that he thought the suspension of campaigning should be a "relatively brief one".
For Labour, Shadow Foreign Secretary Emily Thornberry said Labour was suspending its political work because "we just can't go on today – in particular in London".
"People are desperately trying to get in touch with friends to make sure everything is OK. It's not right for us to campaign today. But it's a matter of balance – we must not be cowed by these people."
She agreed that the election itself should not be delayed saying she was "acutely aware that what these murderous people want is to undermine our democracy and values. The very thing we should be doing is continuing with our election – and urging people in defiance to go out and vote and be involved in this".
Home Secretary Amber Rudd said: "This was an horrific attack in the heart of our capital city, targeted at people enjoying their evening with friends and family. My thoughts are with the victims and all those affected by this incident."
She also thanked police and emergency services for their work.
The Labour mayor of London, Sadiq Khan, said more police would be on the street on Sunday. He stressed the importance of Thursday's general election, arguing for "making sure that we vote and we recognise actually that one of the things these terrorists hate is voting, they hate democracy".
What are the parties saying?
Labour Leader Jeremy Corbyn said: "We are all shocked and horrified by the brutal attacks in London. My thoughts are with the families and friends of those who have died and the many who have been injured.
"Today, we will all grieve for their loss."
He said the pause in election activities was "a mark of respect for those who have died and suffered injury", adding: "Those who wish to harm our people, divide our communities and attack our democracy will not succeed."
A spokesperson for the SNP said: "All of our thoughts are with those affected by the dreadful events in London… It is important – especially so close to an election – that the terrorists do not succeed in their attempts to undermine our democracy."
Lib Dem leader Tim Farron said: "The remainder of this campaign must be a collective showing of defiance and pride in our democratic values."
Green Party co-leader Caroline Lucas said: "My heart goes out to all those affected and caught up in these horrific and despicable attacks, and my thoughts are with the victims and their families."
But UKIP's Paul Nuttall said it was "time to start honouring our dead with more than just words".
"The only guarantee that will come from our choosing to stall the democratic process again will be more attacks – it is what these cowards want us to do."
BBC One's Andrew Marr Show and BBC Two's Sunday Politics have both been cancelled, but ITV's Peston on Sunday went ahead as planned.