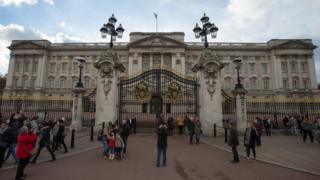 Shadow chancellor John McDonnell, who describes himself as a republican, has pronounced he backs a £369m taxpayer-funded replacement of Buckingham Palace.
He pronounced a Queen's chateau was a "national monument" that indispensable to be preserved.
The 10-year refurbishment is due to be saved by an boost in a annual Sovereign Grant, from £43m to £71m.
The Treasury pronounced an "urgent overhaul" was indispensable to forestall glow and inundate damage.
Speaking to Matt Frei on LBC radio, Mr McDonnell said: "It's a inhabitant monument… inhabitant heritage, it's going to be treated that way, in a same approach as a House of Commons.
"When we have these aged buildings, they have to be looked after."
Asked if a Queen should account a repairs herself, he said: : "She might good cruise that. we am a republican though when it comes to decisions like that, we consider they are left to her."
An online petition combined on Friday job for a Royal family to account a repairs themselves has collected around 50,000 signatures.
Mr McDonnell also indicated that he might have knelt before a Queen when he was recently inducted into a Privy Council.
Asked if he went on "bended knee", he said: "I did a common protocols."
"I consider you're not ostensible to speak about what happens… I'm not certain what a manners are. You can contend we did a common custom – not apart distant from a one you're suggesting."
As a member of a Privy Council, he is now entitled to accept confidence briefings and to be famous as a Right Honourable.