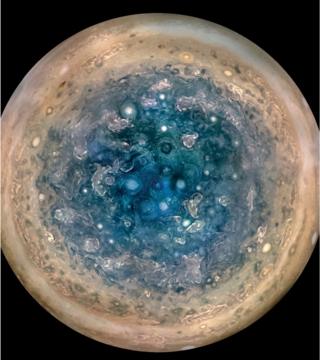 Scientists working on the American space agency's new Juno mission say its initial observations at Jupiter have taken their breath away.
In particular, they have been amazed by the storms seen at the planet's poles.
"Think of a bunch of hurricanes, every one the size of the Earth, all packed so close together that each hurricane touches the other," said Mike Janssen.
"Even in rooms of hardened researchers, these images of swirling clouds have drawn gasps," the Nasa man added.
The Juno probe arrived at the fifth planet from the Sun on 4 July last year. Since then, it has been making a close pass over the gas giant every 53 days.
The first data to come out of these observations are now being reported in two papers in the journal Science, and in more than 40 others in a special edition of Geophysical Research Letters.
The mission team says that in nearly all instances, previously cherished theories about how Jupiter works are being challenged.
"We're getting the first really close up and personal look at Jupiter and we're seeing that a lot of our ideas were incorrect and maybe naive," said Juno principal investigator Scott Bolton from the Southwest Research Institute in San Antonio, Texas.
Those big cyclones that cover the high latitudes of the planet are only now being seen in detail because previous missions to the planet never really got to look from above and below like Juno – certainly, not at such a high resolution. Features down to 50km across are discernable.
The structures are very different from those seen at Saturn's poles, for example, and the team will have to explain why. It is also not clear at this stage how long-lived they.
Jupiter is 11 times wider than Earth and 300 times more massive
It takes 12 Earth years to orbit the Sun; a 'day' is 10 hours long
In composition it resembles a star; it's mostly hydrogen and helium
Under pressure, the hydrogen becomes an electrically conducting fluid
This 'metallic hydrogen' is likely the source of the magnetic field
Most of the visible cloud tops contain ammonia and hydrogen sulphide
Jupiter's 'stripes' are created by strong east-west winds
The Great Red Spot is a giant storm vortex twice as wide as Earth
---
[email protected] and follow me on Twitter: @BBCAmos