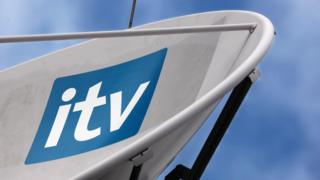 Revenues at broadcaster ITV fell 3% in the first three months of the year as advertising income dropped 9%.
ITV, which makes Coronation Street, said it expected similar falls for the whole of the first half of the year.
The company blamed much of the fall on the strong revenues generated the previous year from its coverage of the European Championships football.
Its studio operations, which make hit programmes, such as Cold Feet saw revenues grow 7%.
Chief executive Adam Crozier, who last week announced he was stepping down, said the figures were "very much as we anticipated".
ITV said the lack of a major football tournament this summer will contribute to an 8%-9% fall in advertising revenue for the first six months of 2017.
And in June, ad sales on its TV channels are expected to be down 15% to 20% "against the tough comparator of the Euros last year".
However, the broadcaster has left its guidance for the year unchanged, with online ad sales and income from its TV studios making up for the fall.