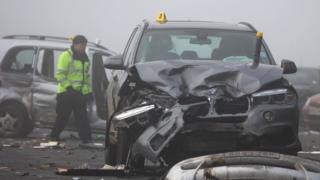 Average car insurance premiums could increase by up to £75 a year as a result of a government ruling, industry experts have said.
A new formula for calculating compensation payments for those who suffer long-term injuries has been announced by the Ministry of Justice.
But the Association of British Insurers (ABI) called the decision "crazy".
The move – reducing the so-called discount rate – could also cost the Department of Health £1bn.
What the change means
When the victim of an accident is awarded compensation in a lump sum, the discount rate reduces their payout.
This is to make up for the extra money they could make by investing that lump sum over many years.
The Ministry of Justice has decided to reduce the discount rate from 2.5%, to minus 0.75%.
This is because the formula is based on gilt yields, or the interest rate on government bonds.
By the time inflation is taken into account, real returns on such bonds have become negative.
'£1,000 increase'
Reducing the discount rate to minus 0.75% was a "crazy decision", said Huw Evans, Association of British Insurers (ABI) director-general.
"Claims costs will soar, making it inevitable that there will be an increase in motor and liability premiums for millions of drivers and businesses across the UK," he said.
"We estimate that up to 36 million individual and business motor insurance policies could be affected in order to over-compensate a few thousand claimants a year."
Experts said higher insurance premiums could cost drivers under the age of 22 up to £1,000 a year.
"We anticipate an increase of £50-£75 on an average comprehensive motor insurance policy, with higher increases for younger and older drivers – potentially up to £1,000 for younger drivers, and a rise of up to £300 for older drivers," said Mohammad Khan, UK general insurance leader at accountancy firm PwC.
However accident victims are set to benefit, as they will receive higher pay-outs.
Consultation
A number of insurance companies said their finances would be hit as a result of the announcement.
Direct Line said it expected its pre-tax profits to be reduced by as much as £230m.
Where negligence claims are made against the NHS, the bill could rise by £1bn, the Treasury said.
But the NHS Litigation Authority will be compensated for any extra cost, the government promised.
And the Ministry of Justice will now launch a consultation on how the system can be made fairer.
In the meantime it has made it clear it has no choice but to change the discount rate, according to the existing law.
"The law is absolutely clear – as Lord Chancellor, I must make sure the right rate is set to compensate claimants," said Liz Truss, the Lord Chancellor and Justice Secretary.
"I am clear that this is the only legally acceptable rate I can set."
---
Have you received compensation after an accident? Do you think it was enough? Share your experience by emailing [email protected]
You can also contact us in the following ways: