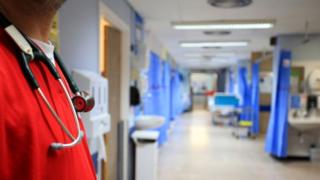 There is a "humanitarian crisis" in NHS hospitals in England, the British Red Cross has said.
The charity said volunteers and staff had been helping patients get home from hospital and called for more government money to stabilise the situation.
It comes as a third of hospital trusts in England warned they needed action to cope with patient numbers last month.
NHS England said plans were in place to deal with winter pressure and beds were not as full as this time last year.
Figures show that 42 AE departments ordered ambulances to divert to other hospitals last week – double the number during the same period in 2015.
This included the Worcestershire Royal Hospital, where two people died in a hospital corridor.
Worcestershire Acute Hospitals NHS Trust said patient confidentiality prevented it from discussing the deaths, but added it had "robust plans" to maintain patient safety and emergency care. A patients' watchdog has called for an investigation.
'Breaking point'
British Red Cross provided support to staff at the East Midlands Ambulance Service across Nottingham, Leicester, Lincoln, Kettering and Northampton on 1 January.
It also boosted existing services offering support at home to help alleviate pressure on hospitals.
Chief executive Mike Adamson said: "The British Red Cross is on the front line, responding to the humanitarian crisis in our hospital and ambulance services across the country.
"We have been called in to support the NHS and help get people home from hospital and free up much needed beds."
"We've seen people sent home without clothes, some suffer falls and are not found for days, while others are not washed because there is no carer there to help them."
He said that if people do not get the care they need, "they will simply end up returning to AE, and the cycle begins again".
Shadow health secretary Jonathan Ashworth said: "The Red Cross being called in to help in our hospitals is just the latest staggering example of how the NHS is now being pushed to breaking point.
"For the Red Cross to brand the situation a 'humanitarian crisis' should be a badge of shame for government ministers."
He called for "urgent help" from the government.
The Royal College of Emergency Medicine said staff were under intense pressure, while the Society for Acute Medicine warned this month could be the worst January the NHS has ever faced.