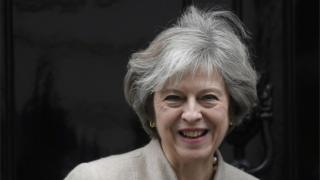 MSPs are to debate Scotland's future relationship with Europe as the prime minister prepares to deliver a highly-anticipated speech on Brexit.
Theresa May is due to say that the UK will not retain "partial" membership of the EU once it leaves.
Her speech is also expected to include further hints Britain could leave the EU single market.
That would put the prime minister on a collision course with Scotland's first minister, Nicola Sturgeon.
The Scottish government has set out proposals aimed at continuing Scotland's membership of the single market even if the rest of the UK leaves.
Ms Sturgeon has repeatedly raised the prospect of a second referendum on independence if she believes it is needed to protect Scotland's interests.
PM rejects 'partial' EU membership
Theresa May's Brexit plans: What we know
What are the Brexit options?
Brexit: All you need to know
Mrs May has indicated she will trigger Article 50 – which will start the formal process of leaving the EU – by the end of March, but has given few details of the kind of deal she will seek.
However, Downing Street said Mrs May would set out 12 negotiating objectives in her speech in London, which will start at about 11:45.
She is also expected to set out how she believes the UK can be an "outward facing" nation after Brexit.
And she will call for people on both sides of the EU debate to end the "insults" and "division" and unite to build a "global Britain".
---
Analysis by Brian Taylor, BBC Scotland political editor
I doubt if there will be complete certainty today on what will happen in Brexit, for the simple reason of course that there is two years of negotiation to follow, but I think it will narrow down the options for the Scottish government.
Nicola Sturgeon said in the Scottish government paper published towards the end of last year that she wanted to stay in the EU, but in the absence of that she wanted the UK as a whole to stay in the single market.
If not that, then Scotland in the single market, and if not that then it would have to be an independence referendum.
Of those three, I think today's speech will remove stage one – there is no prospect from Theresa May's stance of the UK remaining a member of the single market.
It makes the prospect of a further, relatively early, referendum on independence more – rather than less – likely.
---
EU leaders have said the UK cannot "cherry pick" access to the single market while restricting the free movement of people, and Mrs May has suggested curbing migration will be her top priority.
Ms Sturgeon's Brexit minister, Michael Russell, told BBC Scotland on Monday that a vote on independence would not be inevitable if Mrs May outlined a hard Brexit in her speech.
But he said such a move would "certainly focus the mind very substantially".
Mr Russell will lead a Scottish Parliament debate on Scotland's future relationship with Europe on Tuesday afternoon.
Speaking ahead of the debate, the pro-independence Scottish Greens said Mrs May "will trigger an independence referendum in Scotland" if she announces plans for a hard Brexit.
They said the move would confirm that the UK government "couldn't care less" about Scotland, and predicted people in Scotland would not want to be part of the "angry, isolated Britain".
But the Scottish Conservatives called on the Scottish government to work with other parts of the UK to get the best possible deal, instead of "continually pitting themselves against the UK government".
The party's economy spokesman, Dean Lockhart, said: "Together, we represent the financial hubs of London, Edinburgh and Glasgow, a significant number of world-class universities and global leadership and expertise across many different sectors.
"With these strengths there can be no doubt that we'll be in a better position if we negotiate as one team."
Meanwhile, Scottish Labour leader Kezia Dugdale used a speech on Monday evening to claim the SNP and Conservatives were "more interested in re-opening constitutional divisions than seeking unity", which she said was "a recipe for a cold war in Scottish politics".
Ms Dugdale also said the Scottish government's position on a second independence referendum could leave Scotland "outside of the EU and outside of the UK".
And she outlined proposals for Scotland to be given greater powers over immigration – which has already been called for by the Scottish government and a cross-party group of MPs.