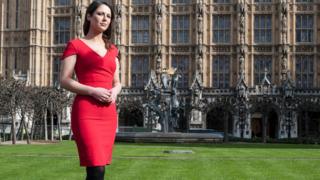 Calls to deliver a new law banning companies from revelation women to wear high heels during work have been deserted by a government.
The Equalities Office pronounced existent legislation was "adequate" though it would emanate discipline to firms this summer.
The emanate was debated in Parliament in Mar after Nicola Thorp, who was sent home for wearing prosaic shoes, set adult a petition with some-more 152,000 signatures.
Miss Thorp pronounced a preference to stop brief of a law change was a "cop-out".
She began her petition after being told to leave a temp pursuit for refusing to wear a "2-4in heel".
A successive parliamentary review into heels and association dress codes found "widespread discrimination" in workplaces.
But Miss Thorp, an equivalence supporter from London, pronounced it was a "shame" a law would not be changed.
"It shouldn't be down to people like myself," she said. "The supervision should take shortcoming and put it in legislation. we do consider it is a small bit of a cop-out."
Employers 'flout' laws
A supervision orator pronounced it was already opposite a law to distinguish on a drift of gender – though that this could be finished "clearer to employers".
"It is unsuitable and is opposite a law," a orator said. "Dress codes contingency embody homogeneous mandate for both group and women."
On Friday, a supervision pronounced a law was "adequate" in a formal response to a petition and investigation.
It pronounced companies should consider either their manners are "relevant and lawful".
"But we recognize that some employers miss recognition of a law or even select to gibe it," a supervision said.
It added: "The Government Equalities Office will be producing superintendence on dress codes in a workplace as a specific response to a Thorp petition and a issues it raises."
It comes after an review by a Petitions Committee and Women and Equalities Committee found "potentially discriminatory dress codes are commonplace".
Maria Miller, who chairs a Women and Equalities Committee, pronounced she welcomed a preference to deliver new guidelines.
"This petition, and a committees' inquiry, have reinforced a need for effective coercion of legislation and for employers and employees to be wakeful of their obligations and rights," she said.
"We acquire a commitments finished by a supervision to augmenting recognition of those rights."
Ms Miller pronounced she hoped a subsequent government, which will be voted in during a choosing on 8 June, would "monitor how this changes women's practice of a workplace".
Helen Jones, who chairs a Petitions Committee, combined that Miss Thorp's petition and a following review had finished a "great deal" to lift awareness.
"The supervision has supposed a recommendation that it should be doing most some-more to urge bargain among employers and employees alike, to forestall discriminatory practices in a workplace," she said.