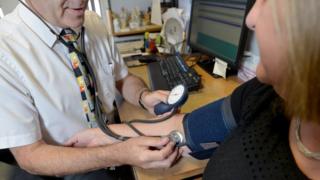 GPs in England must keep their surgeries open for longer to meet demand from patients, or risk losing funding, Downing Street has warned.
Number 10 said many patients were going to already pressurised AE departments because they cannot get appointments.
The government wants to see surgeries open between 08:00 and 20:00, seven days a week, unless they can prove the demand is not there.
The British Medical Association accused ministers of "scapegoating" doctors.
Downing Street issued a statement saying surgeries should do more to ensure they offer appointments in the evening and at weekends.
It said: "Most GPs do a fantastic job, and have their patients' interests firmly at heart.
"However, it is increasingly clear that a large number of surgeries are not providing the access that patients need – and that patients are suffering as a result because they are then forced to go to AE to seek care.
"It's also bad for hospitals, who then face additional pressure on their services."
It comes as figures show more than four in 10 hospitals in England declared a major alert in the first week of the new year as they faced unprecedented pressures.
Why bother with seven-day GP opening?
Patient films AE corridor bed 'chaos'
Number 10 said ministers had been shown evidence that some GP surgeries were failing to tell patients about extending hours appointments or ensure they were at convenient times.
It said those who cannot get seen outside of working hours are "left with little option" but to go to AE.
Downing Street said the prime minister was supporting a series of reforms to help reduce pressures on hospitals, including:
A call on GPs to do more to provide a service from 08:00 to 20:00 seven days a week unless they can prove the demand is not there
Ministers may consider asking GP surgeries to use a new appointments tool to submit data on the number and types of appointments being offered
GPs would only receive extra funding for offering extended hours if they can demonstrate they are offering appointments which patents want and are advertising them properly
Surgeries receiving extra cash for longer opening times will be asked to expand their online services for patients to free up time for consultations and treatment
Figures from the National Audit Office show that 46% of GP surgeries closed at some point during core hours – with 18% closing at or before 15:00 on at least one weekday.
Three-quarters of those received extra funding in 2015-16 to provide access outside of core hours, the government said.
The Director of Acute Care for NHS England, Professor Keith Willett, recently estimated that 30% of patients attending AE would be better cared for elsewhere in the system.
'Scapegoats'
But the British Medical Association (BMA) accused ministers of trying to "deflect blame" on to doctors rather than address the funding crisis in the NHS.
GP committee chairman Dr Chaand Nagpaul said pressure on AE services was down to seriously ill patients for whom seeing a GP would not prevent a hospital admission.
He called on the government to "take responsibility" for a crisis of its own making and outline an emergency plan to tackle under-resourcing in the NHS.
"This is not the time to deflect blame or scapegoat overstretched GP services, when the fundamental cause of this crisis is that funding is not keeping up with demand," he added.
The government said ministers believe GP surgeries have a "vital role" to play in alleviating pressure on AE and 17 million patients have already benefited from extended hours services.
It pointed to schemes such as the Integrated South Kent Coast pilot where 110,000 patients registered with 18 practices around a local hospital hub can book appointments from 8am-8pm seven days a week.
A 14% increase in funding to general practice will ensure there will be around 5,000 more doctors by 2020, it added.