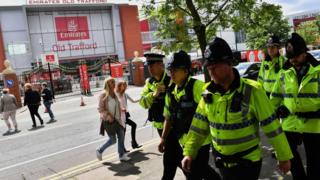 Labour mayor of London Sadiq Khan has warned that future cuts to the Met Police are "unsustainable" and could make it harder to foil terror attacks.
He said if the Tories win the election the Met faced having to make savings of £400m, on top of £600m since 2010, and up to 12,800 officers could be at risk.
"Fewer police officers mean we are in more danger," he told the BBC.
But Tory predecessor Boris Johnson said London police numbers "remained high" and counter-terror budgets were up 30%.
The foreign secretary told the BBC that it was "bizarre" that Labour were attacking the Conservatives over policing and counter-terrorism, given that its leader Jeremy Corbyn had seen opposition to anti-terror legislation as a "badge of honour".
Met defends dropping inquiry into attacker
The Tories said armed police numbers were increasing and officers had extra powers to deal with terrorists.
Met Commissioner Cressida Dick has said a debate is needed on future resources in the wake of the London Bridge and Westminster attacks although a former terrorism law watchdog said linking the cuts to terror attacks was a "completely misleading argument".
The BBC's assistant political editor Norman Smith said he expected there to be a remorseless focus on the issue of security in the final 48 hours of the election campaign before Thursday's poll despite attempts by the Conservatives to focus on Brexit.
Labour has accused Theresa May of "letting austerity damage her ability to keep us safe" by allowing total police officer numbers to fall by nearly 19,000 while she was home secretary.
'Deeply concerned'
Mr Khan said the Met, for which he has direct responsibility, was a "brilliant force" but had already had to swallow "big" budget cuts since 2010 and he was now "deeply concerned" about the effect that a further spending squeeze could have on policing in the capital.
The Labour politician said, under current Conservative plans, the Met faced having to make savings of £400m in the next few years.
If all of these savings came from reduced police numbers, he said the force faced a reduction in manning of between 10% and 40% – equivalent to losing between 3,400 and 12,800 police constables.
He also warned the Met could lose between £184m and £700m in further funding a year due to changes to the national police funding formula. He told BBC Breakfast that thousands of community police officers, the "eyes and ears" of the force, were now under threat.
"It is not sustainable," he said. "One of the first things that I did as mayor of London was to approve a further 600 armed officers as I recognise that having a significant number of armed officers is one of the ways of preventing terrorists causing further harm to our city."
Asked whether he believed that London would be less safe if the Conservatives were re-elected, he replied: "Under a renewed Theresa May government, we would have fewer police officers… there is no doubt that fewer police officers mean we are in more danger."
The latest figures show that between September 2010 and September 2016, police workforce numbers in England and Wales fell by 18,991, or 13%.
Foreign Secretary Boris Johnson said Mr Khan was making an "entirely sensible point" about the importance of armed police on the capital's streets and said he agreed with his successor that the Met must continue to be "strongly and robustly financed".
But he said that while he was mayor he had reached agreement with the then home secretary Theresa May to maintain overall police numbers in the capital at 32,000. "Policing numbers have remained high…this was invaluable."
He insisted the Conservatives were protecting overall police budgets and hiring a further 1,900 security service officers and he suggested that Labour's focus on "so-called cuts" was distracting attention from the "scumbags" who had carried out the attacks in London Bridge.
Following the London attack, Mrs May said "things need to change" in the fight against terrorism, calling for more to be done about online extremism and for a review into whether security services needed extra powers.
Speaking to BBC Newsbeat, she defended her record, saying she had given the police extra powers to deal with terrorists and that there had been an increase in the number of people reporting suspected extremists to the authorities.
And Lord Carlile, the former official reviewer of terrorism legislation, told the BBC that cuts in community policing were "nothing to do with terrorism", saying "nobody in the security services is complaining about their funding".