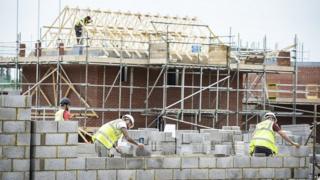 The Lib Dems will offer young people a "brighter future" as they launch their manifesto, promising to restore housing benefit for 18-21 year olds and help people get on the housing ladder.
They will unveil a £3bn "rent to own" scheme where people's monthly payments would be used to build up a share in a home over a 30-year period.
Other pledges include a discounted bus pass, offering 66% off local tickets.
Leader Tim Farron will also vow to give the public a second vote on Brexit.
He will say the decision to leave the EU could "wreck" the lives of future generations and insist the public should have the right to opt to stay in if it believes the terms of exit are unacceptable.
The Lib Dems are calling for a further referendum on the final Brexit deal, arguing that it is essential for British businesses and workers that the UK remains in the EU's internal market.
Guide to the parties: Liberal Democrats
Mr Farron will tell activists people don't have to accept the "extreme version" of Brexit being proposed by Theresa May, which he will say will have a serious impact on family finances and funding for public services.
"You should have your say on the Brexit deal in a referendum," he will say. "And if you don't like the deal you should be able to reject it and choose to remain in Europe."
The party, which served in government with the Conservatives between 2010 and 2015, is hoping to bounce back from its disastrous showing two years ago, when it lost almost 50 seats and was left with just eight MPs. It has ruled out striking any coalition deals after next month's election.
The focus of the party's manifesto will be its offer to young people, who the Lib Dems argue have been let down by the Conservatives and Labour.
'Decency'
It will pledge to reinstate housing benefit for 18-21 year olds, axed by the government last month, which it will say could affect as many as 18,000 people and potentially lead to increased levels of homelessness.
As part of its housing offer, it will promote a scheme in which those renting a property will be able to build up equity with every monthly payment, which they will eventually be able to convert into full ownership after 30 years.
The plan was first mooted by the party back in 2015.
This time around, it envisages developers and housing associations building thousands of new homes underpinned by loans and guarantees from a new Housing and Infrastructure Development Bank.
The total capital investment in the initiative, part of the Lib Dems' plans to build 300,000 new homes a year will be £3bn by 2022.
The bus pass discount on single and return tickets will be available to all 16-21 year olds ordinarily resident in England, using the same mechanism as the National Concessionary Scheme for the over-60s.
Lib Dems pledge to boost armed forces
Lib Dems promise to end pay squeeze
The Lib Dems have already pledged to protect per-pupil funding in England, which will cost £7bn over five years. On Wednesday, it will go further, saying it will extend free school meals to all primary schools and triple funding for the early years pupil premium, boosting it to £1,000.
The party, which has pledged to increase corporation tax to pay for its plans for schools and to lift the public sector pay cap, insists its plans are fully costed.
Mr Farron will say his vision for the country contrasts with the Conservatives' "cold, mean-spirited" approach.
"We want to give our children a brighter future in a fairer Britain where people are decent to each other, with good schools and hospitals, a clean environment and an innovative economy," he will say.
The Conservatives have accused the Lib Dems of being willing to prop up Labour in a "coalition of chaos" and seeking to overturn last year's referendum result.