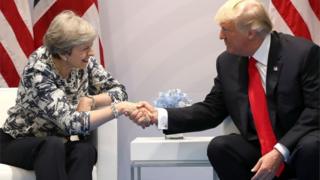 US President Donald Trump has said he expects a "powerful" trade deal with the UK to be completed "very quickly".
Speaking at the G20 summit in Hamburg, he also said he will come to London.
The US president is holding one-to-one talks with UK Prime Minister Theresa May to discuss a post-Brexit trade deal.
It is one of a series of one-to-one meetings with world leaders which will also see Mrs May hold trade talks with Japanese Prime Minister Shinzo Abe.
Ahead of their meeting, Mr Trump hailed the "very special relationship" he had developed with Mrs May.
"There is no country that could possibly be closer than our countries," he told reporters.
"We have been working on a trade deal which will be a very, very big deal, a very powerful deal, great for both countries and I think we will have that done very, very quickly."
Final day of 'difficult' talks
Trump and Putin meet face to face
Clashes erupt at Germany G20 protest
Mr Trump said he "will be going to London". Asked when, he replied: "We'll work that out."
But Sir Simon Fraser, a former diplomat who served as a permanent under-secretary at the Foreign Office, cast doubt on how soon any deal could be reached.
"The point is we can't negotiate with them or anyone else until we've left the European Union.
"And the Americans and others will not negotiate with us until they know what our relationship with the EU is going to be because the access we have in Europe is hugely important for the advantages that they can get from their relations with us."
During the head-to-head with Mr Trump, Mrs May is also expected to urge Mr Trump to reconsider his decision to take the US out of the Paris Agreement on climate change.
"I will be making that message. I will continue to give the message that the United Kingdom believes in the importance of the Paris Agreement," she said.
On this, the BBC's deputy political editor John Pienaar said Mr Trump would give her a polite enough hearing but he did not expect any sudden breakthrough.
In her meeting with Shinzo Abe, the focus is expected to be on trade and an offer to help Japan on counter-terrorism and cyber security for both the Rugby World Cup in 2019 and the 2020 Olympic Games.
Brexit reduces UK's global clout – Hague
Mrs May is also holding one-to-one talks with Turkish president Recep Tayyip Erdogan to discuss ways to tackle the increasing numbers of Islamic State fighters leaving Syria across its border.
After a meeting on Friday, Chinese President Xi Jinping said China and the UK were in a "golden era" of relations and increased investment from his country since the Brexit vote showed its confidence in Britain.
The G20 summit is the first gathering of world leaders since the UK's general election last month, during which Mrs May's Conservative party lost seats and her performance was widely criticised.
The BBC's John Pienaar said Mrs May's counterparts knew the election result had left her weaker and with less authority, and they would be looking at her through that lens.
But Mrs May said Britain would continue to be "bold" on the world stage, and she would take a lead, not "sit back" and be "timid".