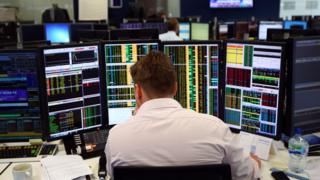 UK shares were higher in morning trade but an early rally in Tesco shares quickly fizzled out.
Shares in Tesco had jumped 2% initially after the supermarket giant's first-quarter sales growth beat expectations, but then gave up all the gains to stand 0.6% lower.
The retailer said like-for-like sales rose by 2.3% in the three months to 27 May, boosted by demand for fresh food.
The FTSE 100 share index was up 19.54 points at 7,438.90.
Shares in Rolls-Royce rose 0.9% after the engineering group said it had made a good start to 2017, with "all businesses performing in line with expectations".
The company also revealed that the weakness of the pound was set to lift revenues by £400m and profits by £50m. The drop in the value of the pound since the Brexit vote means that Rolls-Royce's dollar earnings are worth more when converted back into sterling.
On the currency markets, the pound edged up 0.1% against the dollar to $1.2773, but slipped 0.1% against the euro to 1.1432 euros.