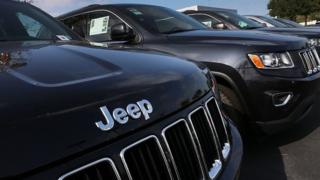 Fiat Chrysler has been accused of not telling authorities about software that regulates emissions in thousands of its diesel vehicles.
The US Environmental Protection Agency (EPA) said the company broke the law by installing, but failing to disclose, the technology in more than 100,000 Jeeps and Dodge vehicles in the US.
The agency said the software caused higher nitrogen oxide levels.
Fiat Chrysler said it was disappointed with the EPA's announcement.
The company had responded to requests for information from US authorities and sought to explain its emissions control technology, it said.
Shares in Fiat Chrysler were trading 12% lower in New York and closed 16% lower in Milan.
The EPA said Fiat Chrysler could be liable for fines of up to $44,000 per vehicle, or $4.4bn.
The vehicles affected were 2014, 2015 and 2016 model years of the Jeep Grand Cherokee SUV and Dodge Ram truck.
"Failing to disclose software that affects emissions in a vehicle's engine is a serious violation of the law, which can result in harmful pollution in the air we breathe," said EPA official Cynthia Giles. "All automakers must play by the same rules."
The agency also said it was investigating whether Fiat's auxiliary emission control devices constituted "defeat devices".
Fiat Chrysler said it would demonstrate that its emissions control strategies were justified and thus were not "defeat devices".
Earlier this week Volkswagen agreed to pay fines of $4.3bn after it admitted to rigging US emissions tests.