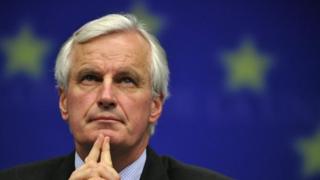 The European Union's chief Brexit negotiator will visit the Irish border region later.
Michel Barnier is on a two-day visit to Ireland ahead of the beginning of Brexit negotiations.
He is expected to meet local business owners, who could be negatively affected if tariffs were imposed on trade between the UK and EU.
On Thursday, Mr Barnier said the Irish border issue would be one of his three priorities in negotiations.
Addressing a joint session of the Irish houses of parliament in Dublin, he said that he would work to avoid a hard border but emphasised that there will have to be some form of customs controls as a result of Brexit.
He will visit food-processing businesses in County Monaghan later and they will be keen to know just what those controls might amount to.
The British and Irish governments have both said they do not want a return to customs posts on the border.
The EU's negotiating guidelines call for a "flexible and creative" approach to the customs issue.
They also state that issues relating to the Irish border will have to be resolved in the first phase of its talks with the UK.
No solid plans have yet been advanced by either the EU or the UK.
Mr Barnier said that whatever happened in negotiations, "nothing should put peace at risk".
He was the first non-head of state or prime minister to make such an address.