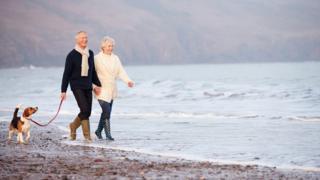 Most defined benefit (DB) pension schemes are still "affordable" for employers, the government has said in a discussion paper.
That is despite the fact that most DB schemes are currently in deficit.
Eleven million people are members of DB schemes, which link pensions to salaries.
And the government's message to employers is unequivocal: most can clear their pension deficits if they want to.
The government said the total deficit of all DB schemes in January 2017 was £197bn, down from £459bn in August 2016.
"Our modelling suggests that these deficits are likely to shrink for the majority of schemes, if employers continue to pay into schemes at current/promised levels," the paper declares.
"While DB pensions are more expensive than they were when they were set up, many employers could clear their pension deficit if required."
DB schemes have declined over recent years, as employers have switched to more affordable defined contribution (DC) schemes, where pension payouts are linked to investment returns.
'Moral hazard'
However, the paper accepts that some companies are "stressed" as a result of big deficits.
It says about 5% of schemes are in that category.
As a result, it leaves open the question of whether companies could save money by changing the way they increase pension payments in line with inflation each year.
Some companies have been keen to up-rate payments according to the Consumer Prices Index (CPI), rather than the Retail Prices Index (RPI).
Doing so could cut a pensioner's income by £20,000 over his or her lifetime, but save the pension scheme an equal amount.
Steve Webb, who was a pensions minister under the Coalition government, said allowing such a change would be worrying.
"There is a significant risk that relaxing standards on inflation protection – with the best of intentions for exceptional cases – could be exploited and lead to millions of retired people being at risk of cuts in their real living standards," he said.
In the paper, the government also raises the idea of temporarily suspending any sort of inflation indexation at all, when pension schemes are in serious trouble.
Yet this could raise "moral hazard issues", it admits, where companies might be tempted to deliberately increase their deficits, in order to save money on pension pay-outs.