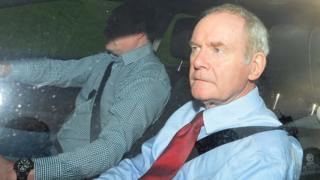 The secretary of state is set to call Assembly elections later if Sinn Féin fails to nominate a deputy first minister to replace Martin McGuinness.
He quit when DUP leader Arlene Foster refused to stand aside as first minister while a botched energy scheme was investigated.
Because they hold a joint office, the resignation automatically put the DUP leader out of her job.
Elections must be called if the positions are vacant for seven days.
The DUP is expected to re-nominate Mrs Foster shortly after 12:00 GMT, but Sinn Féin is adamant it will not put forward a replacement for Mr McGuinness, meaning neither first nor deputy first minister can resume their jobs at Stormont Castle.
Assuming there is no last minute breakthrough by 17:00, the onus will be on Secretary of State James Brokenshire to name a date for a fresh election either in late February or early March.
Political crisis explained
Newspaper headlines: Polls apart
At Stormont later, MLAs will debate Economy Minister Simon Hamilton's plan for cutting the cost of the subsidies paid to claimants under the controversial Renewable Heat Incentive (RHI) scheme.
The plan would be to cut the potential half-a-billion-pound overspend.
MLAs on the economy committee are currently holding an emergency meeting, questioning Mr Hamilton and his most senior civil servant, Andrew McCormick, about the plan.
An association representing the claimants has written to MLAs arguing that the proposed changes to the scheme could be overturned by a legal challenge.
Mrs Foster was the minister in charge of the RHI scheme when it was set up in 2012.
It was designed to encourage businesses to switch from fossil fuels to more environmentally friendly energy sources. But subsidies were overly generous and initially there was no cap on the payments.
The scheme is projected to run £490m over budget, although the DUP say their plan will eliminate the overspend.
In the Assembly later, Sinn Féin are to table A motion of no confidence in DUP Speaker Robin Newton, who has been criticised for his handling of a recalled Assembly session to debate RHI before Christmas.
During the weekend, Sinn Fein's former Education Minister Caitríona Ruane confirmed she would not be standing again if an election is called, but a clearly ailing Mr McGuinness has yet to clarify whether he will retire from Stormont politics.