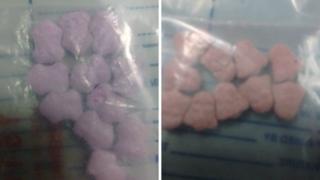 Police have issued a warning over tablets known as "Darth Vaders" after a 14-year-old boy who consumed the drug was treated in hospital.
Officers said the boy was "treated for renal failure after reportedly consuming just half of one tablet".
The incident happening in Holywood, County Down, on Saturday. The boy was discharged from hospital on Sunday.
A 17-year-old, who was arrested on suspicion of drugs offences on Sunday, remains in custody.
He is being questioned about possession of a class A controlled drug, and possession with intent to supply.
The PSNI said the tablets were "as yet unidentified" but warned of the "potential dangers" they posed.