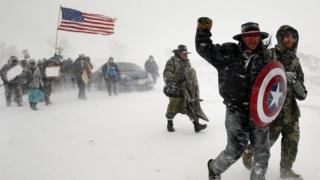 The company building the controversial Dakota Access oil pipeline says it plans to resume work immediately after getting permission from the US Army.
Energy Transfer Partners (ETP) said the remaining work on the pipeline would take about three months to complete.
The $3.8bn (£3bn) project had stalled for months due to opposition from Native American protesters.
The Standing Rock Sioux tribe says the pipeline could endanger its drinking water and desecrate sacred sites.
The final section of the project is a crossing under Lake Oahe that would carry North Dakota oil through the pipeline to Illinois.
The Army had begun further study of the river crossing after contamination fears raised by the Standing Rock tribe, but it notified Congress on Tuesday that it would stop the study and grant ETP permission to continue work.
The decision came after Donald Trump formally backed the project last month in one of his first acts as US president.
Thousands of predominantly Native American protesters have boycotted the pipeline's construction in the state of North Dakota.
The 1,172 mile (1,886km), four-state project is almost finished except for the one-mile stretch under Lake Oahe, where demonstrators have set up protest encampments.
The Obama administration announced in September that it would not allow the project to proceed, but Mr Trump overturned the decision.
The Army's statement on Tuesday said: "The Department of the Army announced today that it has completed a presidential-directed review of the remaining easement request for the Dakota Access pipeline, and has notified Congress that it intends to grant an easement."
An easement is a special permit that allows a company to cross private land. North Dakota's two US senators welcomed the Army's announcement.
Standing Rock Sioux lawyers said approval of the project cannot be "legally granted at this time".
Environmental groups, including Greenpeace, the Sierra Club, and the Center for Biological Diversity have criticised the decision and vowed to fight the pipeline.
They accused the Trump administration of putting corporate profits ahead of Native Americans and the environment.
Nearly 700 people have been arrested since protests first began last year, according to law enforcement officials.
Just last week 76 protesters were arrested after refusing to leave land owned by the energy company.