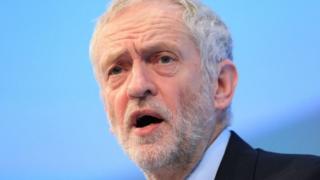 Jeremy Corbyn is to say Labour is not "wedded" to freedom of movement for EU citizens in the UK as a "matter of principle", as he sets out his views on Brexit negotiations.
In a speech, the party leader will argue the UK "can be better off" after leaving the EU, but add that he will not allow Theresa May a "free pass".
Mr Corbyn will pledge to push for "fair and reasonably managed migration".
Mrs May has said Brexit can "change the country for the better".
With negotiations between the UK government and the EU set to begin as early as April, there is much speculation over whether the prime minister will push for the UK to remain part of the European single market or opt for a so-called "hard Brexit" – leaving the single market but gaining fuller control over immigration.
May: Brexit can 'change UK for better'
Ireland-UK ties 'need Brexit review'
Davidson calls for single market access
In a speech in Peterborough on Tuesday, Mr Corbyn will say: "We have had no answers from government about their plans.
"Not since the Second World War has Britain's ruling elite so recklessly put the country in such an exposed position without a plan."
The Labour leader will add: "There can be no question of giving Theresa May's Tories a free pass in the Brexit negotiations.
"Unlike the Tories, Labour will insist on a Brexit that works not just for City interests, but in the interests of us all."
Mr Corbyn is set to promise to "push to maintain full access to the European single market to protect living standards and jobs".
But he will emphasise that Labour will "press to repatriate powers from Brussels for the British government to develop a genuine industrial strategy essential for the economy of the future".
'Action on undercutting'
On immigration and free movement of EU citizens – regarded as a key electoral issue in many Labour constituencies – Mr Corbyn will say: "Labour is not wedded to freedom of movement for EU citizens as a point of principle.
"But nor can we afford to lose full access to the European markets on which so many British businesses and jobs depend.
"Changes to the way migration rules operate from the EU will be part of the negotiations."
Labour will demand "fair rules and reasonably managed migration" and "take action against undercutting of pay and conditions by closing down cheap labour loopholes, banning exclusive advertising of jobs abroad and strengthening workplace protections", Mr Corbyn will say.
On Sunday, the prime minister told Sky News it would not be possible to hold on to "bits" of EU membership after Brexit, leading to widespread reporting that she was moving towards leaving the European single market, with restricting immigration a priority.
But Mrs May said on Monday that it was "wrong" to infer that she preferred a so-called "hard Brexit", adding: "What we're doing is going to get an ambitious, good and best possible deal for the United Kingdom in terms of… trading with and operating within the single European market."
Ahead of Mr Corbyn's speech, Liberal Democrat leader Tim Farron said his Labour counterpart was "still no clearer" on immigration.
He added: "He failed to pull a shift to keep us in the EU before the referendum and now he is helping Theresa May, [International Trade Secretary] Liam Fox and [Foreign Secretary] Boris Johnson yank us out of the single market."