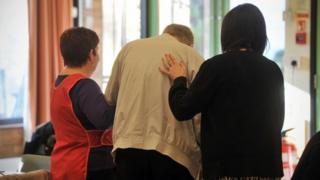 Theresa May will promise to address the rising cost of social care in England and curb immigration when she launches the Conservative manifesto later.
It will promise no-one will have to sell their property in their lifetime to fund residential or home care.
Instead, the cost of care – above a £100,000 threshold – will be taken from their estate when they die.
Firms will be asked to pay more to hire migrant workers, who will in turn be asked to pay more to use the NHS.
The value of someone's property would be included in the means test for receiving free care in their own home – currently only their income and savings are taken into account.
However, people in residential care who currently have to pay for their care will be able to defer the cost until after their death.
The threshold for both groups would rise from the current £23,250 to £100,000, meaning the family assets would not be depleted below that level to pay for care.
Winter fuel payments, which pensioners currently get irrespective of need, will be also means-tested, with the proceeds going directly to care for the elderly.
Tory care plan: Will it cost people more?
Is Theresa May a 'Red Tory'?
Guide to the parties: Conservatives
The manifesto is also expected to pledge an end to universal free school lunches in England.
---
Analysis by Laura Kuenssberg, BBC political editor
Don't expect hearts and flowers.
Thursday's manifesto will not be presented as a description of a land where milk and honey flows. But rather look for a hard-headed assessment of the country's problems, wrapped up in arguments about why Theresa May is the person to fix them.
Against the logic put forward by many of her colleagues, she will stick to a tough message on immigration – UKIP voters who could turn Tory ever in mind.
She will present solutions on social care that in one way or another will mean more people have to pay more, and she'll means test some pensioner benefits to do it too.
There is a big risk in limiting some free school meal provision.
Theresa May wants to be seen as tough, she does not want to be labelled harsh, or cruel.
But even before the manifesto is fully published, the Lib Dems have labelled her "the lunch snatcher" – a reference to Mrs Thatcher "milk snatcher" who ended free school milk in the seventies.
Read more here.
---
Migration target
On migration, the BBC's political editor Laura Kuenssberg says Mrs May will put forward an "uncompromising" message, saying high immigration levels can harm community cohesion, and restate her commitment to bringing net migration down to the tens of thousands.
Also expected on immigration:
Commitment to "bear down on immigration from outside the EU" across all visa routes
Reduce and control immigration from Europe after Brexit
Sources say this means "the end of freedom of movement"
Doubling of the "Skills Charge" from £1,000 to £2,000 per employee per year for employers who hire non-EU immigrants in skilled jobs
The revenue will go into skills training for UK workers
Non-EU migrants to pay more to use the NHS
Rule out removing students from the immigration statistics
The plan to stick with the net migration target has caused controversy, with critics saying it will be nearly impossible to meet without doing damage to the economy.
Net migration, the difference between people coming to the UK for more than a year and those leaving, stood at 273,000 in the year to last September. It was last below 100,000 in 1997.
An editorial in Wednesday's Evening Standard, whose editor is the former Chancellor George Osborne, suggested that in private ministers were dismissive of the target believing it was unrealistic.
The article says the target, set by David Cameron when the Tories were in opposition, was "economically illiterate" and it was a "mystery" why Mrs May was persisting with it.
'Hard work'
It urged the prime minister to "sweep away this bad policy from the past".
Mrs May will say the Conservative manifesto will not shirk the challenges facing the country, whether it be over Brexit or social policy.
She will say the ageing population and the growing number of dementia sufferers have put a strain on the care system and the NHS, with too many people facing "high costs and inadequate treatment".
---
Social care: the winners and losers
By Nick Triggle, BBC health correspondent
What the Conservatives have proposed for elderly care is pretty complex.
They are changing certain thresholds as well as what can be defined as assets and how long you wait before you have to pay your bill.
But in the end it can be summed up pretty easily – they want people to pay more towards the cost of their care.
Some elements of their plans sound generous and certainly some people will benefit, but large numbers won't.
Why? Because we are a nation of homeowners and these plans make sure that whatever sort of care you need, the value of your home can be taken into account.
Read more from Nick here.
---
Under the Tories' plans, winter fuel payments for all pensioners will come to an end with assistance limited to the least well-off through a means-testing system.
At the moment, all pensioners qualify for one-off payments of between £100 and £300 each winter.
Successive governments have defended the principle of universal eligibility in the face of criticism that they are a perk for wealthier pensioners who don't need the money.
'Unity of purpose'
The prime minister, who has been front and centre of her party's campaign, will call for "unity of purpose" as Brexit negotiations begin in earnest, saying the country faces the most "challenging" period in her lifetime.
"It is the responsibility of leaders to be straight with people about the challenges ahead and the hard work required to overcome them."
"As we embark on the momentous journey ahead of us over the next few years, our shared values, interests and ambitions can – and must – bring us together as a united country."
In an article for the Sun, the prime minister says she is determined to cut the cost of living for ordinary working families, keep taxes low and "to intervene when markets are not working as they should".
Labour said the Conservatives had broken 50 promises over the past two years, on living standards, NHS spending, school funding and the deficit, and could not be trusted.
The SNP, meanwhile, said Theresa May wanted a "free hand to dismantle the welfare state and to push through their reckless plans for a hard Brexit which threaten jobs, investment and livelihoods."
Get news from the BBC in your inbox, each weekday morning