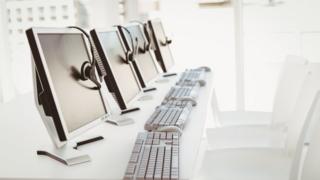 Tax credit claimants have received nearly £87,000 in compensation after US contractor Concentrix mishandled their claims, an official report has found.
About 35,000 people had their payments wrongly stopped, the UK's National Audit Office (NAO) said.
The firm was hired to try and save more than £1bn in incorrect or fraudulent tax credit payments, but saved less than a fifth of that target.
HMRC, the UK's tax agency, terminated the contract in November.
Worry and distress
In just over two years, 108,000 people had their tax credits changed or stopped by Concentrix, according to the NAO report.
But almost a third of those decisions had subsequently been overturned, it said.
By mid-December 2016, "HMRC had paid a total of £86,815 in compensation for complaints relating to cases handled by Concentrix" the report added.
That included almost £68,000 for worry and distress.
The BBC has previously reported the case of Nicola McKenzie, a teenage mother who had her child tax credits stopped by the company after she was wrongly accused of being married to a 74-year-old dead man.
'Challenges'
Senior figures from HMRC and Concentrix will be called before MPs later this month to explain the failures.
A Concentrix spokesman said: "This was a hugely complex contract and programme, and as the report highlights, a number of issues emerged at the outset which laid the foundations for the challenges experienced throughout, particularly last year."
The firm was paid £32.5m during the contract, but told the NAO it had made a loss of £20.5m on the deal.
An HMRC spokesman said: "We apologise to all those who did not receive the standard of service that they should have".