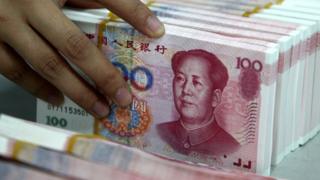 China's economy grew by 6.7% in 2016, compared with 6.9% a year earlier, marking its slowest growth in more than a quarter of a century.
China's growth is a key driver of the global economy and a major concern for investors around the world.
The figure is in line with Beijing's official growth target of between 6.5% and 7%.
But some observers say China's growth is actually much weaker than official data suggests.
For the fourth quarter, the world's second biggest economy grew by 6.8%.
China is the world's second-biggest importer of both goods and commercial services, meaning its economic performance has a big knock-on impact around the world.
It plays an important role as a buyer of oil and other commodities. Its slowdown has been a factor in the decline in the prices of such goods.
Beijing's aim to rebalance the economy towards domestic consumption has led to major challenges for large manufacturing sectors with layoffs, especially in heavily staffed state-run sectors such as the steel industry.
---
Can we trust the numbers? By Stephen McDonell, BBC Beijing Correspondent
Plenty of economists think that GDP is a massively flawed form of measuring the health of any economy but in this country it is even worse.
There is significant proportion of China watchers who don't believe the GDP figures are real at all.
For example, in 2016, the country's (year on year) GDP was exactly 6.7% for three quarters in a row.
While this seems numerically unlikely, I suppose it is possible that this could happen.
Without solid, reliable figures this remains a debate with wide-ranging, conflicting views.
Mind you, even if at worse China's real GDP is around 4% at present, there are plenty of national governments which wouldn't mind a taste of those numbers.
Read more from Stephen here.
---